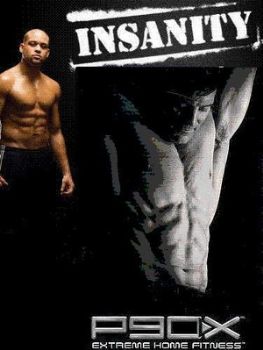 Photo Beachbody.com
If you ever wondered what the difference in these two programs are, here it is broken down:
www.examiner.com/x-28813-St-Louis-Fitness-Trends-Examiner~y2010m7d30-Extreme-workouts-P90X-Vs-Insanity
P90X is dumbbell weight training/strength training.
Personally if you like variety, P90X may be the one you want. Plus you can really modify it very easily. There is only 2 plyo (jumping) workouts, Cardio X and Plyometics.
Insanity is body weight training.
It has more of the same moves over and over, (think jumping jacks and high knees) with each workout and very much harder on the knees and back. More bending over and jumping, and not much difference in each of the style of workouts.
Hey, I don't consider myself a whimp either....
... at 119lbs I:
Bench 70lbs
Cable row 70lb
Asst Pullup 65-70lb
Curl 25lb
Squat 60lb
Leg Press 120-140lb
Clean press 50-60lb
But both workouts are effective and will get you results like any workout if you stick with them. So check it out and let me know your thoughts.......
ps:
I am on round 3 of P90X and did Insanity for 1 week and stopped because of my knees.