I just got the NutriBullet and I am keeping my old standby mini mixer just in case.
Here is my rating on it compared to my old blender which is a single serve and been used a bunch (million times) is next to my new shiny NutriBullet.
Hamilton Beach Single-Serve Blender $15.00 at Target (worth every cent)
2 Pieces, that's it. Blend in style with this single serve blender by Hamilton Beach.
Featuring a travel lid, push button controls and cord storage, the blender has stainless steel blades for durability and a generous 14-ounce capacity. •Easy compact storage with a convenient jar that flips over and a cord wrap •Wattage Output: 175 Watts •Number of Speeds: 1 •Capacity (volume): 14.0 Oz. •Appliance Capabilities: Smoothes, Beats, Mixes •Features: Hideaway Cord Wrap, Push Button Controls •Includes: Travel Lid, Blending Cup with Lid, Instruction Manual •Material: Plastic •Finish: Glossy •Care and Cleaning: Dishwasher Safe Parts, Wipe Clean
VS NutriBullet MagicBullet® NutriBullet™
This high-speed blender/juicer system allows you to chop, shred and dice. The Nutribullet is design to break down nutrients of the whole foods you place in it so there are more nutrients that are released to allow your body to easily absorb them. Nutribullet also has everything you need to start creating delicious drinks and dishes. Includes high-torque power base, one tall cup, one short cup with handheld comfort lip ring, one handled short cup with one comfort lip ring, flat blade, emulsifying blade, two stay-fresh resealable lids, one pocket nutritionist and one user manual/cookbook. 600 watts.
Has 2 blades one for crushing up nuts, like I really care. Still. $80.00 (with coupon at Bed Bath and
Beyond, cheapest place to buy it new)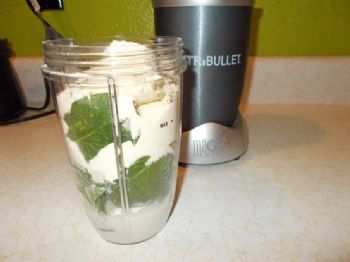 You can put veggies like spinach and what not in it. So. What. Check out the photos here, take a look at what you see closely.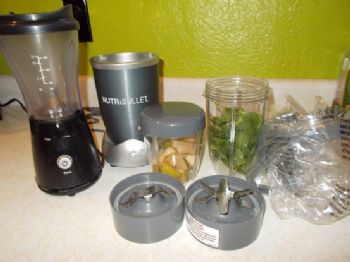 Nutribullet - Gazillion pieces
Takes up more space in The Barbie House the 580 sq ft home I live in.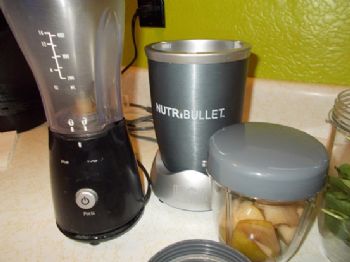 Comes with cool screw on lids
Blends it all up like my old one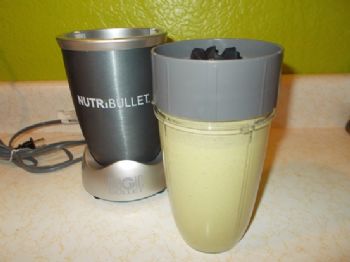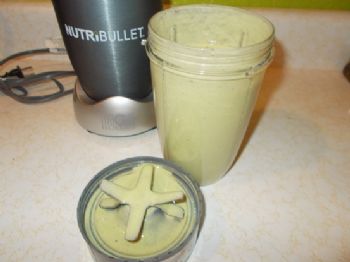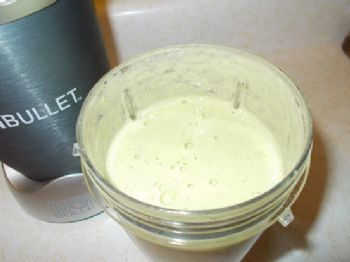 Now, check out the printing/cup marking on measuring your actual intake difference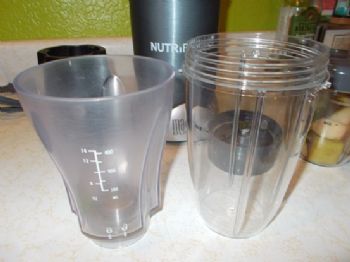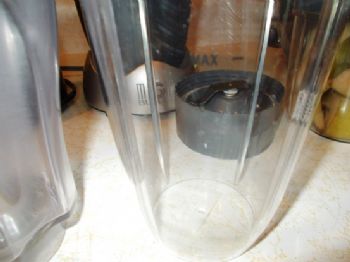 Also note, it also has allllllll those screw line thingy so that you can be sure the top is on tight for the cyclonic action blades to work and not leak. Yeah, don't over fill!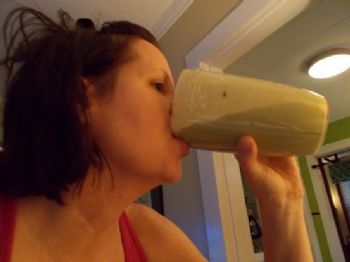 Check out how faaaaar my lips have to be to drink this past the screw marks. You get the biggest milky mustache ever! And they act like take it on the go, yeah better bring a napkin and don't even think about lipstick or gloss till after you wipe off your face full of NutriBullet smoothie. Oh you can use the special handle lip ring one, its so awkward its not worth the time to me in the morning.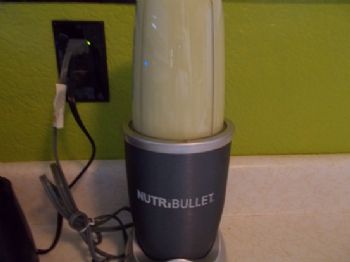 Just so you can blend it upside down.
So am I saying you should buy the NutriBullet? If you want to have more options. I have had mine a week now and I have only used the other blade for nuts once to check it out. It does have recipes I have tried and I also put carrots in it and it did just fine. Was it worth the money. Not to me, when I had one working just fine.
I thought I would be able to just drop a bunch of stuff in it and go but some seeds you can't have in it because they are not good for you. I rate this - 8 Too many things I would never use, and I also don't like it doesn't have a hide-a-way cord and its way heavy to lug up and down from the cabinet so its on the counter. If your really into pre-weighing your stuff it works super, if not there us just 1 magical fill line. One. Don't go over it. Floods over.
Maybe once I start making other things I may like it better but for now I'm not sure it was the best investment of $80 bucks.
.............. If you have one, whats your rating of the NutriBullet?