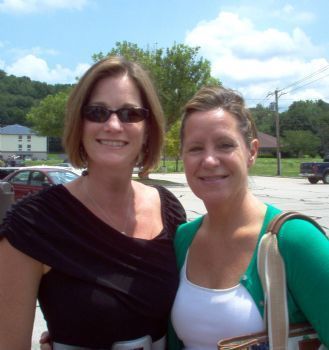 Tia, just so you know I did not slack on my workouts you pumped me up!
I did not get in enough cals yesterday since I had so much coffee it took my appetite away
. I had a great workout weekend and lots of socializing.
Now I am back on my old meal plan and am happy to be changing things up. I decided
I will stay on P90X for another round
since I lost strength from surgery. My legs are killing me, yesterday on the stair master I thought I would die, and it was just 10 minutes.......YIKES!
Here are my weekend workouts, and its back to P90X sorry Shaun T.
Today's workout:
Off dayWorkout - Yoga X and Core

Mood - Sluggish
Time of workout = 25 mins
Cals = 44
Forward bend
Swan
Chatarunga
Downward dog
Upward dog
Pushup
Plank
Runners lunge
Crescent
Warrior I
Warrior II
25 Regular crunches
50 Obliques
25 Reverse crunches bent leg
Reverse Warrior
Sunday workout:


Workout - Upper Body & Cardio
Mood - Strong
Time of workout = 60 min
Cals burned = 150
Back flys 30lb 3x12
Chest press 30lbs 3x12
Asst Pullups 55lb 3x10
Back rows 55lb 3x12
Lat pull downs w/alt bicep 45lb 3x12
Yoga stretch cool down
Downward dog
Triangle
Upward dog
Twist
Forward bend
Seated stretches
Shoulder tri stretch
5 minute elliptical = 50 cals
10 minute stair master = 100
Saturday workout:
Workout Legs & Glutes = 30 min cardio

Mood - Fierce
Time of workout = 45 min
Cals burned = 240
Squat Standing 60lb 3x10
Laying glute 55lb 3x10
Standing glute 40lb 3x10
Seated Back ext 50lb 3x10
Leg Press 100lb 3x10
Hyper extentions 3x10
Captains chair ball 3x10 alt knee/straight leg
Standing single leg squat
Dead lifts 50lb 1x20
5 min elliptical 10 min Stair Climber 1 min intervals level 5-7 with cross leg, double step and wide step
10 min stretch cool down:
Runners lunge
Forward bend
Downward dog w/alt calve raises
Upward dog
Childs pose
Side childe pose
Hero pose
Single leg seated stretch
NO EXCUSE I MAKE IT HAPPEN