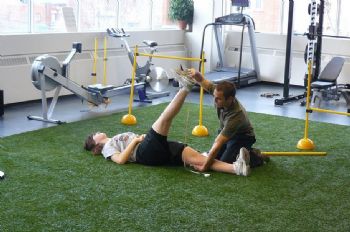 Image: softballperformance.com [not me]
I found my test on the functional movement screen
when I went to the Kettlebell training and here is how I did:
Deep squat = 1 [could have done better but bad knees]
Hurdle step 17" = 2
In line lunge = 2
Shoulder mobility = 1 & 2 [no surprise here with my injury]
Active straight leg raise = 2
Trunk stability push up = 2
Rotary stability = 2
Total score = 12 [14 being the best]


If I could have done a deep squat and had my shoulders been the same, I would have got the 14 woot woot. Something to shoot for!
Last night I decided to take the Zumba class just to get the swing of things
since I have been practicing. I got to stay and talk to the instructor and she is switching her class time and someone else will take the early class. Good for me now I can see another style.
Monday:
Workout - Zumba class at the gym

Mood - eager
Time of workout = 1 hour
Cals burned = 300
Today's workout I really enjoyed the circuit, and plus its just fun to see how much I can do compared to the girls on the dvd.
Favorite move, plank jacks rawk!


After workout snack =
2 scoops vanilla whey
1 cup water
JM 30 Day Shred Level 2

Mood - sore
Time of workout = 30 min
Cals burned = 202
Warm up:
arm crosses
windmills
J jacks 25
high kicks 20
neck circles
Workout:
J jacks 25
walking push ups 5/5
squat row 15lb - 22/12
high knees 60/60
squat thrust 22/22
single leg lift crunch 12
lunge w/row 15lb - 20/20
pendulum lunge w/bicep curl 15lb - 8/8
oblique twist 50/60
skaters 25/25
Abs straight leg w/overhead weight 15lb - 18
reverse crunch 20
military press w/leg ext 15lb - 10/8
squat w/side to front lift v-raise 15lb - 10/12
plank jacks 30/30
double jump rope 70/70
plank twist 26
NO EXCUSE I MAKE IT HAPPEN!