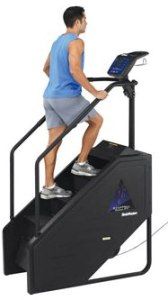 The stair BEAST!
Ever try this machine?
I had an ice cream with brownies in it this weekend, I will admit. (which I don't like so won't be mixing my brownies and ice cream again)
Worked out really hard this weekend, and feelin' it SORE!

I even did the MONSTER manual stair climber for 5 minutes (usally I do this for 20 minutes if I do NO other cardio). I know your thinking that's not much, huh?
But after 15 minutes on the elliptical at a calorie burn of 1 calorie per minute it was tough!
I burned 2 cals per minute on that stair MONSTER puppy.....sheesh.
Plus on a down side, I did have to drop down on the asst pullups machine by 10lbs but you know I am ok with that.
Last week I really
kept my fat macro in line
and hope to do the same this week, just tweeking some things while trying to stay on a budget.
On a food note, (I did not load the pictures yet) I am trying a new thing with my sweet potato........
What do you think?
Lunch today:
1 med sweet potato
2 tbs honey
1/2 oz sunflower seeds
D-lish sweet and salty......and for dessert yogurt with cinnamon.
Today's workout:

Off day rest and grow
Sundays 7/11 workout:


Workout - Upper Body & Cardio
Mood - Bring it!
Time of workout = 60 min
Cals burned = 200
Back flys 30lb 3x12
Chest press 30lbs 3x12
Asst Pullups 55lb 3x10
Back rows 55lb 3x12
Lat pull downs w/alt bicep 45lb 3x12
Lateral lifts w/T lifts 5lb 3x12
Side plank w/db 5lb 3x10
Tricep kickbacks 10lb 3x12
15 minute elliptical = 150 cals
5 minute manual stair climber = 50 cals
Also, I did not film my yoga video but it is coming!
NO EXCUSE I MAKE IT HAPPEN!