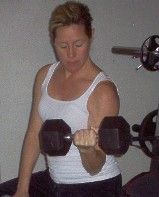 I had a productive weekend
, and I feel good about that. I blasted some fat this weekend with my gym workouts.
SORE does not even start to describe how I feel, and I am loving getting back to my basic training. Especially at the gym, which my gym went to a 24 hours now so NO EXCUSE!
Diet not so good
, had some new lemon ice cream called 5. Five ingredients and very tasty I only had a half cup but still. For some reason this weekend I had a sweet tooth more then usual and we ate out 2 times.
I was dreading a weigh in today even though my weigh in day is Friday I felt icky from that food.
Good news, 119
so T. is very happy today!
How did it happen? Portion control! You can have a few treats but you just can't ruin the WHOLE WEEK of work.
Sundays Workout:

Workout - Upper Body & Cardio
Mood - Strong
Time of workout = 60 min
Cals burned = 150
Back flys 30lb 3x12
Chest press 30lbs 3x12
Asst Pullups 55lb 3x10
Back rows 55lb 3x12
Lat pull downs w/alt bicep 45lb 3x12
Lateral lifts w/T lifts 5lb 3x12
Side plank w/db 5lb 3x10
Tricep kickbacks 10lb 3x12
15 minute elliptical = 150 cals
Saturdays Workout:

Workout Legs & Glutes = 20 min HIIT
Mood - Fierce
Time of workout = 60 min
Cals burned = 250
Squat Standing 60lb 3x10
Laying glute 55lb 3x10
Standing glute 40lb 3x10
Seated Back ext 50lb 3x10
Leg Press 100lb 3x10
Hyper extensions 3x10
Captains chair ball 3x10 alt knee/straight leg
20 min HIIT elliptical 1 min intervals level 12-20 inclines 4-10
10 min stretch cool down:
Runners lunge
Forward bend
Downward dog w/alt calve raises
Upward dog
Childs pose
Side child pose
Hero pose
Single leg seated stretch
Saw
Monday Workout:

Off day
20 Minutes P90X Stretch
PS: I finally got my 2 new videos up, please rate me
www.youtube.com/trainertfitness
NO EXCUSE I MAKE IT HAPPEN = 30 YR REUNION 3 WEEKS!