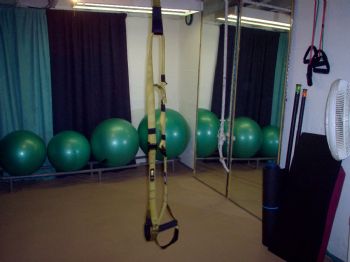 The new gym studio is almost DONE!
Here is my new TRX suspension system (I have bought 2) and my NEW mirrors. The only section left is the part to build where my desk and files will go and to cover the hot water heater for storage. Tiny house = need storage space!
No problem, I can do that later as I find things free on craigslist to build it with FREE. Oh, I am going to get some fabric to cover the closet area, in white that will really make it look fresh for training 2 people at the same time as I will need every inch I have ;-)
I love it!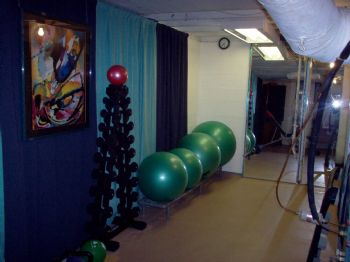 Now I can practice my Zumba, its perfect I did it today and I will hang the other TRX along the same beam training one facing one way and the other person facing the opposite BAM!
Check out these balls I got at Walmart at a buck apiece. Yoga mini balls = $8 each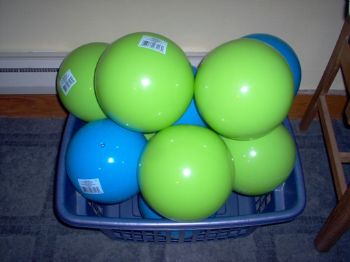 These are the adorable balls I got to do my ball pilates workshop with, and a guy at work let me use his pump tab to let some air out of them now they are puuuuurfect!
They have to have some give to work with them, and
I get to do a "mock" class for the Yoga studio owner on December 17th I know she is going to looooove it.
(Ok and plus I need the cash lets be real hear)
Now for the Bob Harper Kettlebell news it arrived and I am kissing him here but its hard to kiss and take the picture.
Love it! Came with 2 workouts, 1 is an hour long (the one I am holding) the other 30 mins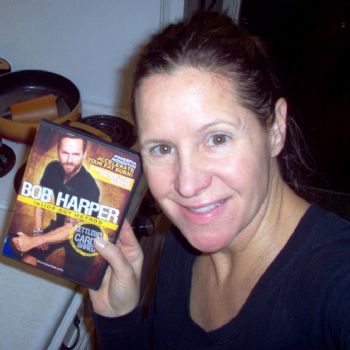 25lb Contour Kettlebell and 2 workouts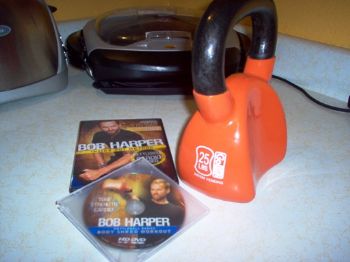 I only did the 30 minute Kettlebell Basics Body Shred Workout review

Rating = 10++
Good direction explain in detail
Slow motion playback for form on pop ups and cleans
Comfy Bell and handle
Great fast warm up and cool down


The workout I did with 25lb Kettlebell only on the overhead I switched to a 15lb DB
Workout time = 30 minutes

Warm up stretches:

Downward Dog
Side twist
Shoulder stretch with hands on knees
10 regular squats facing a wall - to teach you form
The workout:

10 squats
15 swings
10 row up with squat
6 single arm swings
10 upward row
10 swings
30 sec jumping jacks
10 -1 arm swings R & L
5 - single arm x 2
20 alt swings
10 pop ups
5 halos x 2 direction
5 twist pop up cleans x 2
3 clean press x 2
10 swings
Balance part of the workout:

5 single leg rows x 2
Stretch

Round out back
Open chest with hands on hips
7 Balance row single leg x 2
Stretch

Forward bend
Open chest stretch hands on hips
5 overhead triangle x 2 (I had to use a 15lb db this was too hard)
5 low hand triangle x 2 (again 15lb db modify)
10 upward rows
20 front swings
Cool down stretches

Hands on leg forward hamstring stretch
Back clasp stretch
Worth the money........Loved it!
Still have to try the other workout dvd then will post moves on that too.
But if your not sure which size to buy, go heavy and use your db for parts you can't do. Simply because you are using momentum here.
My other Kettlebell is a 12lb
vinyl wrapped as well, and I could have used it for the over head but it was downstairs and I was to lazy to get it.
NO too PUMPED to do the workout.

I must admit, I do want to order the 20lb as well they are that GREAT.
Workouts:
Sat at the gym - Cardio
Elliptical - 45 mins
Cals burned = 500
2 x 10 standing reverse ab crunches
2x10 hyperextensions
2x10 30lb back extensions
Sunday:
30 min Bob Harper Kettlebell
15 min zumba
30 min pilates ball routine
NO EXCUSE I MAKE IT HAPPEN!