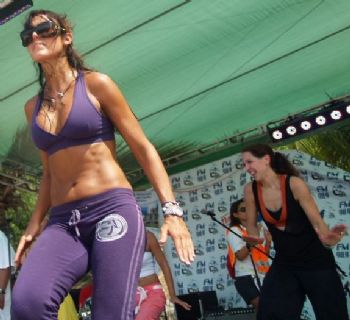 I am super happy about getting Zumba Certified this September with Jani Roberts!

I have been teaching a few classes, a "hybrid Zumba" that I created from youtube videos and getting a good response. Now that I will be certified I will be able to use the logo, and learn the actual steps.

If you are certified can you tell me about ZIN? Cost and all to keep my certification up?

Do you Zumba?

I already have the Zumba original music from 6 years ago at a fitness convention I was at, that's how long I have been "on the fence" over this. After thinking about how I want to continue training at age 48, this is one area that I feel I am strong at to continue a one-on-one or group in.

Not that I don't love teaching step and kickboxing, I have to face the fact that eventually I may have to let that go and switch to floor aerobics and now Zumba.

Don't worry my passion is still in weight training and always will be, however its very hard to get clients to understand that it works better then cardio when used in the proper program.

Lately I have decided to add some spice to my oatmeal, so I created the
"Cinna-butter nut apple Oatmeal" (you might not think cinnamon and pb go together but that is what makes this so tasty)

Here is what you need:
1 small apple sliced small cubes
1 packet or 1/2 cup plain old fashion oats (or steel oats)
1 tbs of peanut butter (smooth)
1 tsp of cinnamon

Take a 1 cup container and put 1/2 cup oats (or packet) and add hot water, make it kinda runny. (if you don't make it runny its too thick after you add the apples) Then add 1 tbs of peanut butter, and 1 tsp of cinnamon and stir. Once all that is mixed and melted, add the cubed apples and stir. Delish!

Cals 250
Carbs 36
Fat 10 (mostly good fats from pb)
Fiber 7g
Sugar 12g
Protein 5g

Today's workout:
Workout - Legs
Mood - Sore
Time of workout = 15 minutes
Cals burned = ?

25 Jumping Jacks
Shadow boxing w/alt front kicks 50 reps
Lunge on step 5lb db 30 reps
Squats on step 5lb db 30 reps
Calve raises 5lb db 30 reps
Side Lunges 50 reps
Sumo Squats 50 reps

If you Zumba, what do you like about it OR are any classes better then others?

NO EXCUSE I MAKE IT HAPPEN!