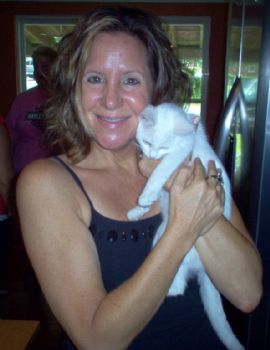 Cute Kitty - me melting in 100 degree weather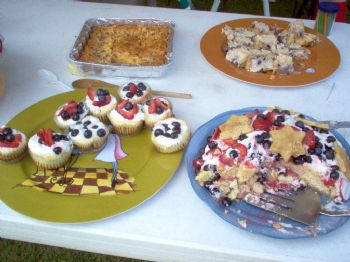 Holiday treats - I had 2 pieces, or was it 3?
Here are my holiday weekend workouts.

Saturday - 7/3

Workout - Lower body, Core & Cardio (2500)
Eliptical = 20 min
Cals burned 200
Time of workout = 60 mins
Squats 50lb,60lb,70lb 3x12
Leg press - 100lb 1x15
Glute press Laying - 45lb, 55lb 3x12
Glute Press Standing - 40lb 3x12
Seated rows - 45lb, 55lb 3x12
Back flys - 30lb 3x12
Hyper extentions 3x10
Abs standing 3x10
Cool downs stretch
Yoga, triangle, cobra, downward dog w/calve stretches
Sunday - 7/4

Workout - Upper body & HIIT cardio (3000)
Eliptical = 25 min
Cals burned 250
Time of workout = 60 mins
Lat cable pull downs 3x12 45lb
Chest press 3x12 30lb
Tricep kick back db 3x12 8lb
Plank side w/5lb db 3x10
Combo bicep overhead press 10lb 3x15
Seated chest flys 15lb 3x15
Monday - 7/5

3 Mile walk - off day
I made the July
Oxygen
protein cookies tonight, but I added oats. They were to me an 8 out of 10 but I am not a baker.
It made about 30 cookies
, so I will be having 2-3 each day instead of my half pb sandwich for breakfast snack.
NO EXCUSES I MAKE IT HAPPEN!