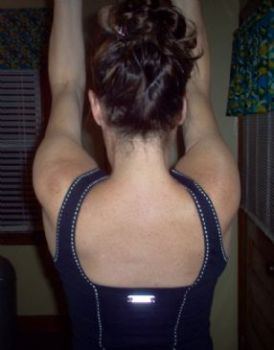 Me doing pull ups and I need to do more of them.
Its official I signed up for Zumba Toning in June. This will give the ability to train Zumba in a more fitness style using 3lb hand weights during the workout. This is more my style, less dance more fitness I am PUMPED. (I have Zumba Basics)
T. is making serious changes in her life.
Today I decided to get back to my weights and rawk a good workout. I managed to get in about 24 mins of the actual lifting, with my new meal plan sometimes it takes a bit longer in the potty and it eats my workout time.
Starting in April I will be back to my 5.30am wake up call and hitting it in high gear, hoping to teach and train in low mid-drift tops.
I won't start teaching my class for another 3-4 weeks which is fine, I still have some modifying for the area of the studio I am using. I loaded my pictures last night, but with a client at 6.30pm I did not have time to blog about them, maybe this weekend. I also changed whey proteins and I am staying at 123-125lb which feels good on me.
Maybe signing up for the 5K Bulldog Dash, (remember 2 yrs ago I came in 3rd for class?) just to give me another goal and my new guitar should be here today or tomorrow. Tadaa!
Today's smoothie:
1/2 c fresh spinach
2 scoops cookies and cream whey
1/2 banana
1/2 c peach no sugar added juice (splenda only)
Workout - P90X Back and Biceps
Time of workout = 30 min
Cals burned = 90
P90X Back and Biceps 10 min warm up
1 set each:
Close grip pull up asst 12
Bent over rows 12 15lb db
21's Bicep curls 10lbs
Cross body curls 10 15lb db
Switch grip pull up 15
Elbow out lawn mowers 12 15lb db
Standing bicep curl 12 15lb db
NO EXCUSE I MAKE IT HAPPEN


PS New P90X MC2
www.youtube.com/watch?v=wEjoFxgn8Ow