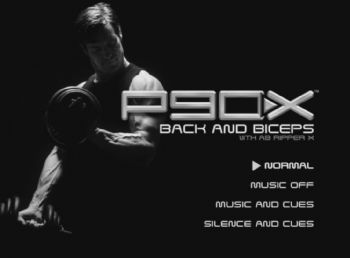 Good news....
I did P90X Back and Bicep workout
, and all the pull ups without my arm hurting!
I really think all that time off healed that injury that kept nagging me. Don't get me wrong, I am very mindful right now of it and did not push myself as hard as I like, but I was sweating like a pig! (I am going to stick with P90X till the end of the month, then re-start Insanity.)
What is the toughest move on this workout for me is the towel pull ups!
No doubt. I do all these pull ups with an
assisted
tool a ladder on a yoga mat. But the balance of having one arm higher then the other, and the instability of the towel movement makes this one
crazy
hard.
How to do this towel pull up move:
Place one towel (damp for grip) over the bar of the pull up AND place your hand gripping the bottom of the towel, and place your other hand regular on the pull up. Do 4 pull ups and switch the towel to the opposite hand.
Thanks
Tony Horton
!
Next to this pull up move I would add the Corn Cob pull up.
How to do the Corn Cob pull up:
Pull up to a full held up pull up position and hold, then lean your body to the right, back to center then to the left and then back to center then release the pull up back to the full hanging down position and repeat.
Since I do these assisted, the towel one is much harder for me but I may feel the other is if I were able to do it without it. Since your keeping your body in a flex hold for quite a few seconds its really isometrically a KILLER!
Last night I did not get in another workout.
*sigh. But that walk at lunch yesterday has to count for something it was 98 degrees out right?
My girl friend came by to take me to dinner for my birthday, plus she got me a gift too.
I got 3 small Bath and Body items
, I was thrilled plus dinner out....
pleeeese
(insert happy dance here) I got the new Lime Citrus lotion, nice and clean and then Japanese Blossom the body spray and lotion.
Today's workout:
Workout - P90X Back and Bicep

Mood - Happy
Time of workout = 45
mins
Cals
burned = ?
Wide pull ups 20
Lawn mower 15lb 15
Twenty ones 10lb - 21 - full, 1/2 curl, full
1 Arm cross body curl 10lb 15
Switch grip pull ups 20
Elbow out lawn mower 15lb - 15
Standing bicep curls 10lb - 15
1 Arm concentration curls 10lb - 10
Corn cob pull ups 10
Reverse grip bent over rows 15lb - 15
Open arm curls 10lb - 15
Static arm curls 10lb - 16
Towel pull ups 6
Congdon
locomotive 15lb - 40
Crouching
cohen
curls 10lb - 12
Corkscrew curls 10lb - 10
NO EXCUSE I MAKE IT HAPPEN