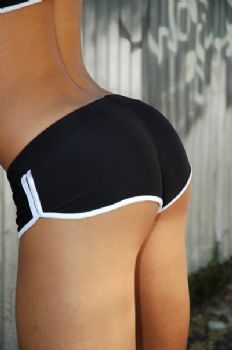 Awesome August is going to be working on my glutes!
Over the weekend, I cranked out some fierce workouts
hoping to get glutes like this HAWT! (btw these are not my glutes) I have to keep building mine with the added weights, and my single leg squats but it will happen because I am on a mission.
I also got my hair done for this weekends 30 year high school reunion
and I hate it. (I know hate is a strong word) I tried to fix it myself and its a disaster, so I am going to go back after work this week and get it corrected.
I wanted some "face framing highlights" in a
light blond and then carmel
and brown for the rest of my hair.
What I got was a lovely yellow-orange color. *sigh. I called my sister in Oklahoma who is a hairdresser and she walked me through a "toning" process. Bad T. I called after it was on my head,
ALL over my head
. She said, jump in the shower and rinse that out....then call me back. I did and it looks much more toned down like dark carmel/gold streaks but ANY gold on me looks B-A-D!
Sunday I tried to help my girl freind out with her relationship,

but it looks like its going down like the titanic.

*sigh I am such a romantic person, I just love, love, and all people in love as we just don't see enough of it.

I had a good workout weekend. I did a run on Saturday which was the first one in a long time, the fresh air was wonderful but HOT.
I ran 2.5 miles in a 10.57 minute mile.
I used to run all the time, now not so much because its kinda addicting especially if your stressed. But I tend to get too skinny and not in a good way, first thing to go is my glutes....last my belly. Go figure.
Sunday I did legs at the gym
, and today I am so super duper sore! (In a good way) Today is my rest and recovery day thank goodness, but I did 15 minutes of yoga pilates stretch. I did pretty good with diet, but did have some sugar. 1 ice cream, and a slice of cheesecake with cherries, I don't know what it is about summer I just love ice cream.
I stocked up on cantalope and watermelon and got some strawberries and peaches, this week crunch week needs to be super
C-L-E-A-N. (Clingy black backless dress need I say more?)Sundays workout:


Workout Legs & Cardio
Mood - Sore
Wt - 119
Time of workout = 45 min
Cals burned = 150 (Elliptical & Stair Master Climber)
Squats 70lb 3x12
Standing glute press 40lb 3x12
Laying glute press 55lb 3x12
Calf raises (3 way) 10lb db 3x10
Dead Lifts 50lb z bar 3x12
Standing leg squats 1x10
Abs captains chair 3x10
Crunch machine 1x20
10 minute manual stair climber = 100 cals 43 flights
5 minute elliptical warm up = 50 cals
Saturdays workout:
Workout - Cardio

Mood - Ruuuumble
Wt - 119
Workout - Running 2.5 miles (at 10.57 per mile)
Time of workout = 23 minutes
Cals burned = 182
Warm up - Cool down:
Runners lunge stretch
Hamstring stretch
Forward bend stretch
NO EXCUSES I MAKE IT HAPPEN!