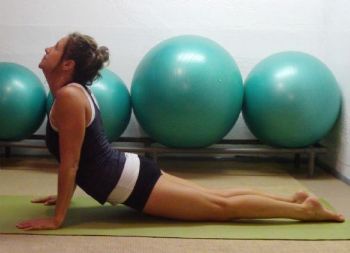 Just got the deal of the day, 5 Hatha Yoga sessions at Yoga To Go for $25!

www.yogatogostudio.com/
There were only 15 and I got it just in time, super duper happy! Plus its near my house, and I have been wanting to go there for a long time.
Hello opportunity knocking.... T. answered!

I got my hair fixed last night, and I like the color much better now. Its more how I wanted with some highlights around my face. T. is very happy to say
goodbye to Goldie Locks.
Workout was great this morning
, but the cookies last night not so much. I took a 1/2 pb sandwich with me to eat on the way to the hair salon so I would not be starved. Got home at 7.20 and ate 2 cups of watermelon for dinner.
Then about 9pm, I was starved (dahh lack of protein) so I had 3 cookies and 1 cup of milk. Yum, but very bad at 9pm. I'm over it!
This is why its so important to get enough protein in your diet, and why I should have opted for my Casien Whey.
Here is my workout today, and I love working the upper body. I feel so good doing strength training that doesn't hurt my knees! Plus its just down right out sexy to see my muscles grow, and the cellulite bit the dust :-)
Post workout smoothie:

1/2 c strawberries
1 scoop Vanilla whey protein
1 tsp olive oil
1/2 c water
P90X Round 3 Lean Week 2 Day 3

P90X Shoulders and Arms

Mood - Fierce!
Workout time = 25 minutes
Cals burned = 160
Warm up:
100 Jacks
Run lunges
High knees / wide /narrow
Butt kicks
Workout:

Alternating shoulder press 10lb db 2x12
In and out bicep curl 10lb db 2x16
Two are tricep kick back 10lb db 2x12
Deep swimmer press 10lb db 2x12
Alt one arm concentration curls 10lb db 2x12
Chair dips - 25
NO EXCUSE I MAKE IT HAPPEN!