First of all, I get freaked out thinking I have been out of high school for 30 years.
My girlfriend and I decided to go together and chat up a storm, and reflect on "good ole times" and we sure did.
We got there and received our booklets, inside
contained a DVD of a musical photo collage that was played during dinner that was amazing!
Our class really put it together nice, and they had set up a "memory lane" table and posters.
There was a poster of Farrah, click clack balls, albums, and "Blues Brothers" glasses all things that were popular during our year. It was so well thought out we really enjoyed it very much.
The food was good, I stuck with salad and veggies, with plain beef. I had 1/2 glass of red wine and then water the rest of the night. NO dessert yay!

Even though I did not meet my fitness goal for this event, I still had a great time. Everyone looked great and it was so fun to catch up, we can't wait for number 35!
Diane and I at our 30 year high school reunion
here we are before we left, she's so beautiful!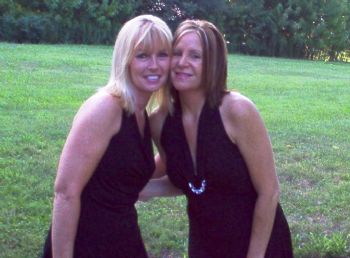 Check out her super
sexy
shoes! I wore my old ones and saved money and yes I already had this dress too I got on sale for $30 last year so comfy!
My new hair cut, color and spray tan (which I only got the light bronze spray tan for a glow that you can't really see in this picture)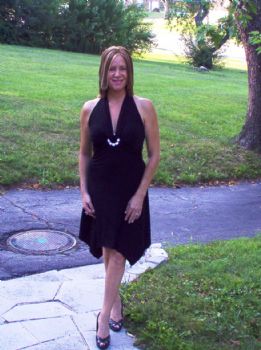 We had a great time and
I made it home by 1am, I skipped the after party
. I will have to find out what happend next time Diane and I chat.
Here's to another fun girls night out :-)