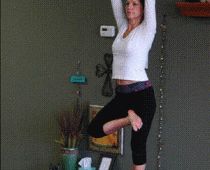 Linda Jones at Yoga To Go

is a great trainer and becoming a good friend.

Last nights core yoga class was the BOMB!
We did 200 crunches
total all yoga moves, like from Dolphin to plank it was amazing.
I am shocked I am not sore! I do have a very strong core which is odd because I have low back problems. Only T right?
Great news on my Friday stats thanks Karen for never giving up on me, back at the 22%.
I also rocked out my shoulders and arms today
adding 5lbs to 3 of the moves
.
In out bicep (bicep curls) 15lb
Concentration curls (bicep curls to the side) 15lb
Deep swimmer press (bicep with over head press) 15lb
Last week I did 10lb on all these and feel like I can keep at 15lb I am finally getting strength back woot woot!
Feeling great today, and had sweat dripping off of me today, always good plus
my form was spot on.
(use a mirror always)
P90X Round 3 Lean Week 3 Day 5
P90X Shoulders and Arms

Mood - Brrrrring it!
Wt - 122
Workout time = 40 minutes
Cals burned = 160
Friday Stats:
WT - 122
BF% 22.9
BMI 20.9
Last Week:
Wt - 121.5
BF% 24.5
BMI 20.8
Warm up:

50 Jacks
Run lunges
High knees / wide /narrow
Butt kicks
Workout:Repeat 2 times
Alternating shoulder press 10lb db 2x12
In and out bicep curl 15lb db 2x16
Two are tricep kick back 10lb db 2x10
Deep swimmer press 15lb db 2x12
Alt one arm concentration curls 15lb db 2x12
Chair dips - 30 reg 15 straight leg
NO EXCUSE I MAKE IT HAPPEN!
ps:
Here is my take about SPARK AMERICA!

www.examiner.com/fitness-trends-in-st-louis/spark-america-spreading-the-spark