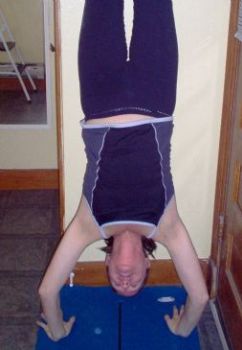 I finally got my handstand leg lift video posted last night
, ratings are welcome
www.youtube.com/user/trainertfitness
This is the move that Linda did at the Yoga To Go class, I loved it.
However this video is shot in a very small space
, and there is a light right above my foot extension. So I could not really do this form correct as I like to. I should have been closer to the wall with my hands, this puts more difficulty on the move as in shoulders and arms.
Also my leg should have had a full extension, if you can tell I had it a bit bent do to my foot hitting the fixture but it was the best I could do in that space.
So keep that in mind, you should be about 1 foot away from the wall and I would do about 8-10 reps on each side.
Of course with you tube, people get bored so I try to make them short and sweet.
Good news! You tube now lets you have 15 minute videos, time to crank up a great workout routine.....Go T.
Workout post smoothie:

1 scoop vanilla whey
1 cup skim
1 tsp olive oil
P90X Round 3 Lean Week 3 Day 3
Workout - Core Synergistics

Wt - 120
Mood - Ugh
Time of workout = 40 mins
Cals = 120
Stacked foot pushups - 15
Banana Roll Boats - 24
Leaning Crescent Lunge - 24
Squat run w/3lb DB 1 Min
Sphinx pushups - 10
Boats - 15
Low lateral skaters - 30
Lunge reach w/3lb DB - 30
Prison pushups to max - 8
Side hip raise - 12
Squat X Press w/3lb DB - 30
Plank tatarunga runs - 10 sec switch 1 min
Walking pushups - 20
If you try the handstand move, let me know how you liked it I would love to hear your feedback
NO EXCUSES I MAKE IT HAPPEN