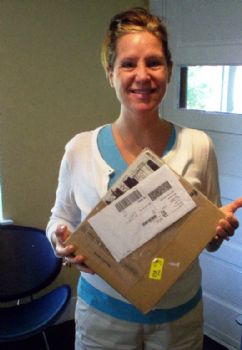 I got home from work and the UPS driver delivered my iPad
I could NOT wait to get off work to open it up and check it out!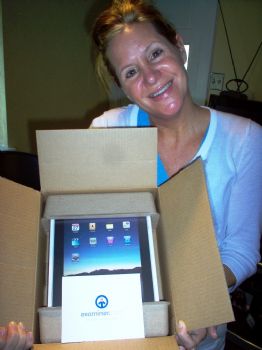 I am so thrilled to have won! (jumping with joy)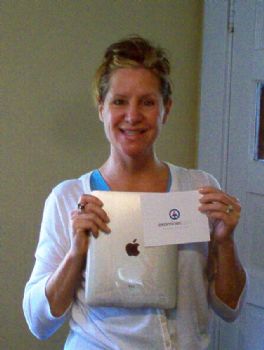 An Apple iPad Wi-fi 32GB thank you Examiner.com
the company I write for online
, and thank you to all my supporters for helping me win!
This is the biggest thing I have ever won, I worked for it writing like a mad woman day and night...... but still I am amazed as its value is $600 just
PINCH ME is this a dream?The best part is everyday and every article I hope to help one person become more fit or teach them something about health and wellness they did not know.

I'm thrilled to be a trainer, I am thrilled to write for the Examiner and I am thrilled to help people get fit!
Now if only I knew how to use this :-)
any tips let me know............
P90X Round 3 Lean Week 4 Day 4 (Recovery)
Workout - P90X Kenpo arms and X Stretch

Mood - Good Morning
Wt - 121
Time of workout = 45 minutes
Cals burned = ?
Jogs, jump rope, jumping jacks (25), jump X jacks (10)
Star Blocks 16
High block low punch 2x25
Knee back kick 2x30
Back knuckle ball kick/back kick 2x10
Hook upper cut low side kick 2x10
Elbow series 30
Vertical punches 100
Walking combo 30
P90X Stretch
Static Stretches:
Neck
Back up the car
Head rolls
Chest, back and shoulder stretch combo
Topas
Wrist, forearm
Back wrist
Dreya forearm stretch
Arm circles
Shoulder tris
Ballistic stretches
Shake outs
Hug yourself high-low
Static Stretches:
Reaches
Back/front stroke
Side stretch
Roller
Seated spinal stretch
Cat stretch
Glute stretch - I did this hand behind hamstring not knee
Wide feet forward bend - I did this arms closed
Triangle
NO EXCUSES I MAKE IT HAPPEN