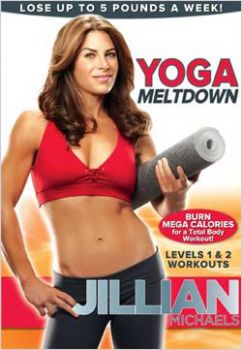 I am already in love with this workout!
It's just the motivation I need for spring, for my back, spine and mind over matter! Woo woo......
Of course I love JM and she explains everything very well and its a pretty smooth moving dvd. I like that she adds some twists to yoga poses, and I consider this Power Yoga because its fast pace. You won't be bored!
Also she shows modified so its easy for someone new to do this. As she shows both, and tells you how to keep the form before moving on to more advanced.
This really got me to work up a sweat!
Considering this is a 30 minute workout she says you will lose up to 5lbs a week, SIGN ME UP! I think after you know the moves you could do this to your own music pretty easily.
Downside........NONE.
I can't wait to do level 2 tomorrow, its that good.

Todays post workout:
1 scoop vanilla ice cream whey
1/2 c low fat chocolate soy
YogaMelt Level 1

Mood - Psyk'd
Wt - 119
Time of workout = 35 minutes
Cals burned = 76
YogaMelt Level 1
Body weight workout - Be comfortable being un-comfortalbe. JM

Warm up
Moutain pose & Breathing
Workout
Cresent lunges lifts
Plank
Chateranga pushup
Sun salutation
Warrior lunges - R leg
Camel heel touches
Camel
Rolling T-Side planks
Warrior lunges - L leg
Plank
Camel heel touches
Sun salutation
Warior 3 - R leg holding leg pose
Elbow to plank to dolphin
Locust
Warrior 3 - L leg holding leg pose
Elbow to plank to dolphin
Locust
Cool down
Single leg bent reach stretch
Twisting spinal stretch
Single leg bent foward laying stretch
Mind over Matter.......