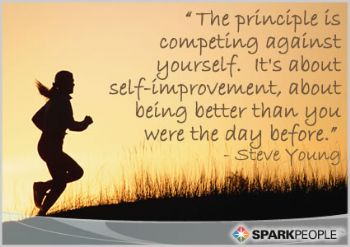 Are you hard enough on yourself?
Are others hard on you?
Do you push yourself to be better then you were? Do more in a day? Take time to help? Show people you care? Set the bar higher? Get out of your comfort zone?
Being hard on yourself is not the same as critical.

You are not looking for flaws here, you are looking to reach deep inside and feel what you want and go for it!
You have to be "SOLD"!
Believe in what you are doing and going for it with heart, soul and passion, knowing what you are doing is getting you to where you truly want to be at.

SOLD!
I question ME sometimes because if I really want something am I working hard enough, trying every option and putting heart soul and desire into it? Am I on course, am I sold?
How bad do you want it, REALLY?

Sometimes others can not see the desire you feel, and maybe they think "oh she isn't trying as hard as she could", or they say "if she wanted this or that bad enough, hungry enough, she would be doing this or that instead".
Or maybe they can see you have the desire because THEY BELIEVE IN YOU, but they can see what you can not.... you NEED to be pushed a bit harder!
Weekend Workouts:
Today:
JM 30 Day Shred Level 1 - Weights used 10lb -7lb

(post workout: 1 Scoop vanilla whey 1/2 light soy)
45 Min incline walk at lunch
Friday Stats:
Wt -118.5
BF% 23.8
BMI 20.3
Saturday:
JM 30 Day Shred Level 2
1 Hour power yoga class
Sunday:
JM 30 Day Shred Level 3
45 Min straight cardio elliptical
This Months Workout Goals:

Letting Jillian Michaels whip me in shape the rest of this month!!!
Using the programs I have, alternating them. I will go to the gym on Saturday and Sunday. (May do the Tuesday AM interval class next week)
JM workouts - 30 Day Shred, YogaMelts, Last Chance workouts
Train On!