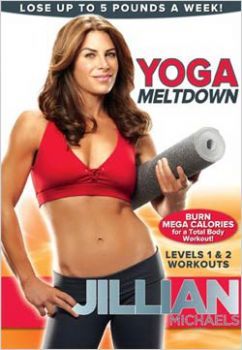 "This is Hybrid yoga using your own body strength training for lean muscles" JM


Today I did the second workout on YogaMelt
and I was challenged working up a sweat! Mind you I had to write this review too, so the next time I will be totally focused.
If you new to yoga, this is a great beginners workout
because she shows the modified moves and also reminds you she is a beginner too. Nice to know she struggles like the rest of us, huh?
All the moves are at a good pace, again you won't be bored!
This is NOT like regular yoga, its like power yoga fast flowing with at twist.
The twist is after EACH movement pose, you do a 15 second hold.
Which prepares you for longer holds, love it!
She explains it very well, and believe me when your done it won't even feel like 30 minutes its that fast. The only downside is she does not include any childs pose, and I would have liked to seen that incorporated in some of the in between flows. Lets see if I lose 5lbs in a week.
Cons - again NONE
Ps: This is
NOT
a relaxing workout, it is strong and powerful.
My workout post smoothie:

1 scoop vanilla ice cream 100% gold standard whey
1/2 c low fat vanilla soy
1 banana
JM Yoga MeltDown Level 2

Mood - happy
Wt - 119
Time of workout = 35 mins
Cals burned = 76
All moves are followed by 15 sec pose hold
Warm up:
3 Sun salutations w/leaning back bends
Workout:
Bent knee triangle w/lifts and arm overhead - R
Revolving triangle - R
Half moon leg lifts
Full moon
Bent knee triangle w/lifts and arm overhead - L
Revolving triangle - L
Half moon leg lifts
Full moon
Mountain
Chair lifts
Leg ext big toe hold - L
Twisting crescent - R
Goddess lifts
Leg ext big toe hold - R
Twisting crescent - L
Goddess
Crow
Boat pose toe taps
Tabletop lifts - L
Leg lowers straight leg - 3 count
Boat post toe taps
Tabletop lifts - R
Leg lowers straight leg - 3 count
Bonus:
Wheel - this is a back bend
Cool down:
Staff pose
Twisting spinal stretch
Pigeon
To order this AWESOME workout:

www.exercisetv.tv/STORE/p-2634-jillian-michaels-yoga-meltdown.aspx?cid=2870274&spMailingID=2870274&spUserID=MTkwODI4ODU0OTQS1&spJobID=83370277&spReportId=ODMzNzAyNzcS1