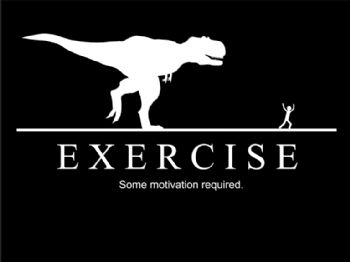 (I know I have used this picture before but I think its so true!)
P90X 2 Time Graduate...woo woo!


"You can do ANYTHING for 30 seconds"
Tony Horton - P90X
" Don't ask yourself, 'Can I?' but 'Am I willing to do what it takes?'... because yes! You can!"
Copyright © 2010 Salomon A. Quijada
" If you can move a grain of sand a day, eventually you will move a mountain."
George Sotiropoulos
" In life, we face difficulties and hardship because life is about striving. The people who are going to succeed are those who are able to push that extra mile, despite knowing that every sinew is at its limits. Are you willing to push that extra mile starting today?"
Copyright © 2010 Jasper Tong
" It doesn't get any tougher if you have confidence and believe in yourself."
Author Unknown
" Don't see others as doing better than you. Beat your own records EVERYDAY & you will surely find success! Remember success is a fight between YOU & YOURSELF."
Author Unknown
" Faith is the foundation of what we are hoping for."
Written in 2010 by Mzwakhe Mngomezulu
" It doesn't matter how long we may have been stuck in a sense of our limitations. If we go into a darkened room and turn on the light, it doesn't matter if the room has been dark for a day, a week, or ten thousand years - we turn on the light and it is illuminated. Once we control our capacity for love and happiness, the light has been turned on."
Sharon Salzberg
" Life is an exciting journey towards an unknown destination, filled with surprises, and planned by the almighty."
Copyright © 2010 Rahul Pratap Singh
" Water your dream with motivation and it will grow into reality."
Written in 2010 by Felix Opaleye
" Anyone can take away anything around you, but your motivation is your spirit - NO ONE CAN EVER TAKE THAT AWAY!"
Written in 2010 by Sekola Phakoe
" Stand up to your fears! You'll find they haven't half the weight you thought they had!"
Author Unknown
" Solid success stands on top of the mountain of failures that's built only by a person who doesn't understand the meaning of give up."
Written in 2009 by Johni Pangalila
" See yourself as a Winner; then only, you can perform as a Winner."
Author Unknown