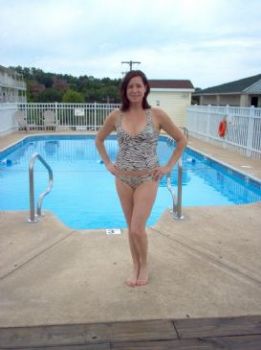 Boy is it HOT in St. Louis
, and everywhere! Poor OK and TX need rain for the livestock so bad. *sigh
I NEED A POOL :-)
My radio station said they saw this sign on a church since its been over 100 here in STL.......
"Satin called, he wants his weather back"
I just thought it was great! And if you think its hot now and you don't know Jesus as your savior, time to think about giving your heart to the Lord.
A few weeks ago, when I went to Branson I bought these super cute dress capri pants for just $9
and they are already too big :-(
I think I am losing my glutes, and not my gut!
So not good
, but I am going to stick with the program and work through with more glute Yoga moves till the end of the month.
Last night finished 30 minutes of Zumba Toning and did another 15 minutes of ST.


Workout - Zumba Toning 3lb db w/Weight training
Time of workout - 45
Cals burned = 193
Zumba Toning w/3lb db
Warm up 5 min
30 min + 5 min cool down
TRX push ups - 10
TRX pull ups - 10
TRX squat w/back row - 20
Over head db press with lunge 2 way - 30
Chair squat w/ball - 20
Squat w/chest press 8lb db - 20
I found a super easy way to add fruit to your oats if you don't want to prep anything.
Dole makes a "natural"
fruit cup
, all you do is drain and rinse out all the juice and poof a sprinkle of cinnamon or a tbs of pb and you are good to go.
I love easy :-)
My Meals:


Breakfast
Banana, fresh, 1 medium (7" to 7-7/8" long) 109 28 1 1
Regular Coffee, 1 cup (8 fl oz) 2 0 0 0
Old Fashioned Quaker Oatmeal- Plain (1/2 cup dry), 1 serving 150 27 3 5
Cinnamon, ground, 1 tbsp 18 5 0 0
Breakfast TOTALS: 279 60 4 7
Lunch
Turkey breast meat, 4 slices 88 4 1 15
Sweet Cherries, 12 cherry 51 13 0 1
Bread, wheat (including toast), 2 slice 130 24 2 5
*Kraft Mayo with Olive Oil (reduced fat mayonnaise), 1 tbsp 45 2 4 0
Lunch TOTALS: 315 42 8 20
Dinner
Ground Turkey, 1 patty (4 oz, raw) (yield after cooking) 193 0 11 22
Red Potato, 100 grams 72 16 0 2
BBQ Sauce, KC Master Piece, 2 tbsp 60 15 0 0
Dinner TOTALS: 325 31 11 24
Snack
Banana, fresh, 0.5 medium (7" to 7-7/8" long) 54 14 0 1
Spinach, fresh, 1 cup 7 1 0 1
Almond Breeze Almond Milk, Unsweetened Vanilla, 8 oz 40 2 3 1
Whey Protein 100% Gold Standard Dbl Choc, 2 serving 240 6 2 48
Fire Water - 1/2 Lemon w/ 1 dash Cayenne Pepper, 1 cup 7 2 0 0
Snack TOTALS: 348 25 5 50
Snack 1
QUESTBAR Protein Bar - Vanilla Almond Crunch, 1 serving 200 22 9 20
Snack 1 TOTALS: 200 22 9 20
Snack 2
None
Snack 2 TOTALS: 0 0 0 0
CALORIES CARBS FAT PROTEIN
Totals: 1,466 180 37 121
DEFICIT = 193