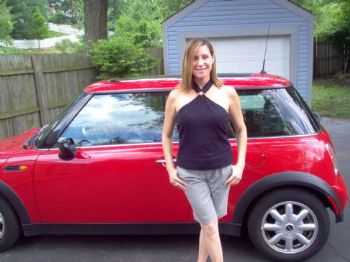 Last night about 6pm it rained like crazy A MASSIVE FLOOD and I even took a video of it!


Cars were getting stuck it was that deep
. Thank goodness I was home or the MINI never would have made it! You could not even see the road, scary. scary.
The news said we got 4 1/2" in like 2 hours, so of course I had to cut my guitar practice short since the basement flooded. It went over the window sill and down into the laundry basket. I had to do laundry at 9pm last night when I discovered it *sigh.
Body Stats:
Wt - 122
BF% 24.4 (up)
BMI 19.9 (down)
Yesterdays workout:
Workout - Yoga + Walk

Time of workout - 15 min
Cals burned = 66 + 124 = 190
Push ups:
Chaturanga = 5
Lunch workout
Walk - 30 min inclines
Guitar practice
10 mins (basement flooded had to clean up water)
My meals:

Breakfast
Pineapple, fresh, 1 cup, diced 76 19 1 1
Regular Coffee, 1 cup (8 fl oz) 2 0 0 0
Old Fashioned Quaker Oatmeal- Plain (1/2 cup dry), 1 serving 150 27 3 5
Peanut Butter Dark Chocolate Dreams Flavor (All natural by Peanut Butter & Co), 1 tbsp 85 6 7 3
Breakfast TOTALS: 313 52 10 9
Lunch
Italian Salad dressing, 1 tbsp 69 1 7 0
Turkey breast meat, 6 slices 133 5 2 22
Spinach, fresh, 15 leaf 35 5 1 4
Tossed Salad, 1.5 cup 33 7 0 3
Arnold Select Sandwich Thins Multi Grain 1 Sandwich thin, 1 serving 100 22 1 5
Lunch TOTALS: 369 41 11 34
Dinner
Perdue Bread low fat chicken breast cutlet, 1 serving 130 11 3 14
*Hendrickson's Original Sweet Vinigar & Olive Oil Marinade & Dressing (GLUTEN FREE), 2 tbsp 70 17 0 0
Mozzarella Cheese, part skim milk, 0.5 oz 36 0 2 3
Raspberries, 10 raspberries 9 2 0 0
Spinach, fresh, 1 cup 7 1 0 1
Walnuts, 0.5 oz (14 halves) 95 2 9 2
Ocean Spray, Craisins Original Sweetened Dried Cranberries 1/3 cup (30g), 0.5 serving 65 17 0 0
Dinner TOTALS: 412 50 15 21
Snack
Fire Water - 1/2 Lemon w/ 1 dash Cayenne Pepper, 1 cup 7 2 0 0

Whey Protein 100% Gold Standard Dbl Choc, 2 serving 240 6 2 48
Spinach, fresh, 1 cup 7 1 0 1
Banana, fresh, 1 medium (7" to 7-7/8" long) 109 28 1 1
Snack TOTALS: 362 37 3 50
Snack 1
Quest Protein Bar - Vanilla Almond Crunch, 1 serving 200 22 9 20
Snack 1 TOTALS: 200 22 9 20
Snack 2
None
Snack 2 TOTALS: 0 0 0 0
CALORIES CARBS FAT PROTEIN
Totals: 1,656 202 48 133
DEFICIT = 190