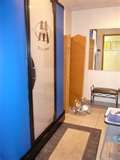 Image:
tanwithus
.net
I'm super happy my client gave me ANOTHER scarf
from her Japan trip it is green like a jade and very thin for summer. I can wear this one as a belt or around my neck I just love it! *insert jump up and down here
Pictures to come.
The first thing my client said when she saw me last night was "Your So TAN!"
I laughed and said, yes I got it at lunch and some will come off when I shower.
I got a spray tan yesterday and I did not want to sweat off my tan, I only did the upper body workout with my client and the clap push ups. Good news she has lost another 5" and 6lbs woo woo!
Here are the details.
Thursday Workout:


Workout

- Yoga + Upper body training w/client

Time of
workout
- 15 min + 20 min = 35
Cals
burned = 66 + 60 = 126
Warrior series
Balancing stick series
Dancer
Chair
Chair w/twist
Wide angle
Wide angle w/twist
Revolving triangle
Client Training:

2x20
TRX
chin up / second set w/1 leg lifted
Lat pull down w/band
Row w/band
Bicep in and out curl w/band
Tricep
overhead w/band
Clap
pushups
(modified)
Chest press fly combo w/stability ball 8lb/9lb db
Cable cross overs high/low w/band
Ball obliques straight hand
Ball hip circles
My meals:

Breakfast
Peaches, canned, water pack, 1 cup, halves or slices 59 15 0 1
Regular Coffee, 1 cup (8 fl oz) 2 0 0 0
Old Fashioned Quaker Oatmeal- Plain (1/2 cup dry), 1 serving 150 27 3 5
Peanut Butter Dark Chocolate Dreams Flavor (All natural by Peanut Butter & Co), 1 tbsp 85 6 7 3
Breakfast TOTALS: 296 48 10 9
Lunch
Perdue
Bread low fat chicken breast cutlet, 1 serving 130 11 3 14
Dannon
Activia
Blueberry Yogurt, 4 oz., 1 serving 110 19 2 4
Arnold Select Sandwich Thins Multi Grain 1 Sandwich thin, 1 serving 100 22 1 5
Lunch TOTALS: 340 52 6 23
Dinner
Perdue
Chicken Boneless, Skinless No Hormones Breasts 4.8oz, 1 serving 140 1 3 28
Dinner TOTALS: 140 1 3 28
Snack
Banana, fresh, 0.5 medium (7" to 7-7/8" long) 54 14 0 1
Almond Breeze Almond Milk, Unsweetened Vanilla, 8 oz 40 2 3 1
Whey Protein 100% Gold Standard Dbl Choc, 2 serving 240 6 2 48
Fire Water - 1/2 Lemon w/ 1 dash Cayenne Pepper, 1 cup 7 2 0 0
Snack TOTALS: 341 24 5 50
Snack 1
Monster Energy Drink, Lo-
Carb
, 4 oz 5 2 0 0
Snack 1 TOTALS: 5 2 0 0
Snack 2
Banana, fresh, 0.5 medium (7" to 7-7/8" long) 54 14 0 1
Almond Breeze Almond Milk, Unsweetened Vanilla, 8 oz 40 2 3 1
Whey Protein 100% Gold Standard Dbl Choc, 2 serving 240 6 2 48
Snack 2 TOTALS: 334 22 5 50
CALORIES
CARBS
FAT PROTEIN
Totals: 1,456 148 29 160
DEFICIT = 126