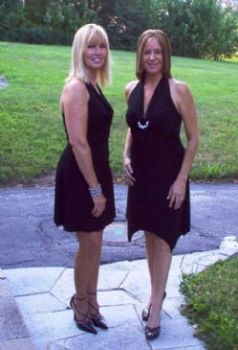 Last night my girlfriend Diane got back from Chicago and came over for Zumba Toning.


We had a great 30 minute session and worked up quite a sweat. I love Zumba Toning over regular Zumba since you get less dance and more slow controlled movements which I love. Plus it helps me get better at regular Zumba doing the moves slower.....
Love Zumba! (ok, I feel so sexy doing it)

Afterwards I made us dinner, I had some things prepped before she got there to save time such as cut up the squash and make the salad and marinate the chicken.
Oh it was so D-lish but I did not take pictures due to way to much chit chat!
Chicken basted with Dove chocolate fig balsamic vinaigrette with sautéed yellow squash with no salt seasoning and a spinach salad with fresh raspberries, crasins and walnuts, slivered almonds and a dash of parm cheese with Hendrickson dressing.
Dessert was 1/2 Quest brownie bar
(the new
Quest
flavor I give a 10 for I will be doing a review with pics on the 3 new flavors)
cut in tiny squares, heated in micro then a sprinkle of Hershey syrup and topped with 5 raspberries.
It was a great time and I hope to load some other pictures tonight, then practice guitar.
Here are my numbers........
My Workout yesterday:
Workout - Yoga and Zumba Toning (2lb db)

Time of workout = 45
Cals burned = 214
Power Yoga in the morning
Sunsalutations
Warrior series
Chair series
10 reg push ups
15 modified
Zumba Toning w/2lb db
warm up
5 songs
cool down
Meals Yesterday:


Breakfast
Pineapple, fresh, 1 cup, diced 76 19 1 1
Regular Coffee, 1 cup (8 fl oz) 2 0 0 0
Old Fashioned Quaker Oatmeal- Plain (1/2 cup dry), 1 serving 150 27 3 5
Whey Protein 100% Gold Standard Dbl Choc, 2 serving 240 6 2 48
Peanut Butter Dark Chocolate Dreams Flavor (All natural by Peanut Butter & Co), 1 tbsp 85 6 7 3
Breakfast TOTALS: 553 58 12 57
Lunch
Spinach, fresh, 15 leaf 35 5 1 4
Bumble Bee Tuna Salad Kit, Chunk Light Tuna only, 1 can, 1 serving 70 0 1 15
Arnold Select Sandwich Thins Multi Grain 1 Sandwich thin, 1 serving 100 22 1 5
Lunch TOTALS: 205 27 3 24
Dinner
Quest Protein Bar - Vanilla Almond Crunch, 0.5 serving 100 11 5 10
Hendricksons Salad Dressing, 1 serving 70 0 0 0
Raspberries, 15 raspberries 14 3 0 0
Spinach, fresh, 1 cup 7 1 0 1
Summer Squash, 1 cup, sliced 18 4 0 1
Almonds, 0.15 cup, slivered 94 3 8 3
Perdue Bread low fat chicken breast cutlet, 1 serving 130 11 3 14
Dinner TOTALS: 433 33 16 30
Snack
Quest Protein Bar - Vanilla Almond Crunch, 1 serving 200 22 9 20
Snack TOTALS: 200 22 9 20
Snack 1
None
Snack 1 TOTALS: 0 0 0 0
Snack 2
None
Snack 2 TOTALS: 0 0 0 0
CALORIES CARBS FAT PROTEIN
Totals: 1,390 141 40 131
DEFICIT = 214