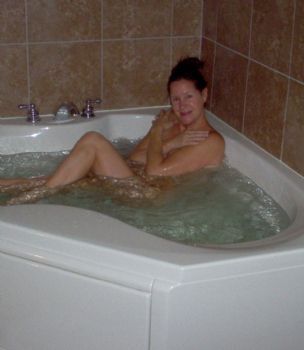 Whats not to love about a jacuzzi tub?
I decided on a mini vacation for Saturday night and I felt so much more refreshed on Sunday! Its just been way to hot here in STL to do much of anything so the indoor pool was a dream come true.
Oh I thought I would get up and use the gym, I even brought my yoga gloves but decided that my swimming on Saturday was all I needed.
Unfortunately I went to my favorite pizza place on Saturday for lunch, and the salad did not agree with me. I always get the same thing, but for some reason there must have been some bacteria that got a hold of me and my tummy was churning.
Do you know how many calories are in a small bottle of pepto? I don't so I did not log that in my food count but consider that 2 of my snack meals. *sigh
So here are my weekend workouts, and I don't have a client tonight so it will be all about the Zumba Toning practice.
Weekend workouts:
Sunday:
Workout - Walk

Time of workout - 1 hr 30
Cals burned = 334
Saturday:
Workout - Swimming

Time of workout - 45 min
Cals burned = 223
My weekend meals, short on calories and protein.
Sunday Meals: (Still not feeling well had 2 tums)

Breakfast
Regular Coffee, 1 cup (8 fl oz) 2 0 0 0
Waffles, frozen, 1 waffle, round (4" dia) (include frozen) 87 13 3 2
Egg, fresh, 1 large 70 0 5 6
Peanut Butter, smooth style, 2 tbsp 190 6 16 8
Log Cabin Sugar Free Syrup, 1 serving 35 12 0 0
Breakfast TOTALS: 384 32 24 17
Lunch
Chef's Cupboard Chicken & Dumplin Soup, 1 cup 160 17 7 8
Italian Salad dressing, 2 tbsp 137 3 14 0
Kraft Jello-o Brand Fat Free Sugar Free Pudding, Chocolate, 1 Serving 60 8 0 0
Tossed Salad, 1.5 cup 33 7 0 3
Lunch TOTALS: 390 35 22 11
Dinner
Egg, fresh, 1 large 70 0 5 6
Bread, wheat (including toast), 2 slice 130 24 2 5
*Kraft Mayo with Olive Oil (reduced fat mayonnaise), 1 tbsp 45 2 4 0
Dinner TOTALS: 245 26 11 11
Snack
Sweet Cherries, 6 cherry 26 7 0 0
Snack TOTALS: 26 7 0 0
Snack 1
Whey Protein 100% Gold Standard Dbl Choc, 1 serving 120 3 1 24
Snack 1 TOTALS: 120 3 1 24
Snack 2
None
Snack 2 TOTALS: 0 0 0 0
CALORIES CARBS FAT PROTEIN
Totals: 1,165 102 58 63
DEFICIT = 334


Saturday Meals: (Started feeling bad after lunch, the salad just did not sit well drank a small bottle of Pepto but did not add the cals in)

Breakfast
Regular Coffee, 1 cup (8 fl oz) 2 0 0 0
Breakfast TOTALS: 2 0 0 0
Lunch
Pizza Hut Medium Thin 'n Crispy Supreme Pizza (1 slice), 2 serving 460 44 22 22
Tossed Salad, 1.5 cup 33 7 0 3
Oil and Vinegar Salad Dressing, 2 tbsp 140 1 16 0
Moutain Dew, 6 oz 83 23 0 0
Lunch TOTALS: 716 75 38 25
Dinner
Penn Station Chicken Salad Sandwich - Small, 1 serving 359 41 15 16
Tea, brewed, 6 fl oz 2 1 0 0
Dinner TOTALS: 361 41 15 16
Snack
Banana, fresh, 0.5 medium (7" to 7-7/8" long) 54 14 0 1
Spinach, fresh, 1 cup 7 1 0 1
Whey Protein 100% Gold Standard Dbl Choc, 2 serving 240 6 2 48
Almond Breeze Almond Milk, Unsweetened Vanilla, 8 oz 40 2 3 1
Fire Water - 1/2 Lemon w/ 1 dash Cayenne Pepper, 1 cup 7 2 0 0
Snack TOTALS: 348 25 5 50
Snack 1
None
Snack 1 TOTALS: 0 0 0 0
Snack 2
None
Snack 2 TOTALS: 0 0 0 0
CALORIES CARBS FAT PROTEIN
Totals: 1,427 141 58 92
DEFICIT = 223