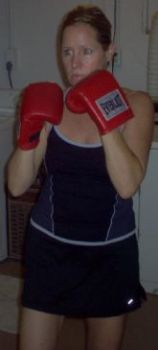 Boxing makes me feel like a woman
, glistening with sweat and strong and powerful and sexy......what more can I say but looooove it!
If you box, how does it make you feel?


I got to see the fight over the weekend at the hotel, Amir Khan vs Jab Judah and Khan won.
www.fightnights.com/boxing-results.php
I just knew he was going to win even though
Judah was RIPPED,
Khan had a much better reach and seemed to dominate.
www.fightnights.com/boxers.php?id=522
Moving on to my workouts, which need to be pushed to a higher level.
Tonight will be Boxing and ST Legs and Yoga stretch. I did not get in my Zumba practice last night had to run errands and I worked on finances instead. Lets see what happens to the market now Mr. Pres. *sigh
Pushup challenge = 30 inclines
Yesterdays workout:
Workout - Walking inclines

Time of workout - 40 min
Cals burned = 148
Client called off, I watched LWN cooking yum.
My meals: (great numbers!)

Breakfast
Cinnamon, ground, 1 tbsp 18 5 0 0
Regular Coffee, 1 cup (8 fl oz) 2 0 0 0
Old Fashioned Quaker Oatmeal- Plain (1/2 cup dry), 1 serving 150 27 3 5
Dole Pineapple Tidbits 100% Pineapple juice, 0.5 cup 60 15 0 0
Nutella, 1 tbsp 100 11 6 2
Breakfast TOTALS: 330 58 9 7
Lunch
Turkey breast meat, 8 slices 177 7 3 29
Sweet Cherries, 1 cup, with pits, yields 74 19 0 1
Bread, wheat (including toast), 1 slice 65 12 1 2
Lunch TOTALS: 315 38 4 33
Dinner
Roasting Chicken, light meat, 1 cup, chopped or diced 214 0 6 38
Strawberries, fresh, 2 medium (1-1/4" dia) 7 2 0 0
Cashew Nuts, dry roasted, 1 tbsp 49 3 4 1
Dinner TOTALS: 271 5 10 39
Snack
Spinach, fresh, 1 cup 7 1 0 1
Whey Protein 100% Gold Standard Dbl Choc, 2 serving 240 6 2 48
Almond Breeze Almond Milk, Unsweetened Vanilla, 8 oz 40 2 3 1
Fire Water - 1/2 Lemon w/ 1 dash Cayenne Pepper, 1 cup 7 2 0 0
Snack TOTALS: 294 11 5 50
Snack 1
Nutella, 1 tbsp 100 11 6 2
Snack 1 TOTALS: 100 11 6 2
Snack 2
QUESTBAR Protein Bar - Apple Pie, 1 serving 170 24 5 20
Snack 2 TOTALS: 170 24 5 20
CALORIES CARBS FAT PROTEIN
Totals: 1,480 147 38 150
DEFICIT = 148