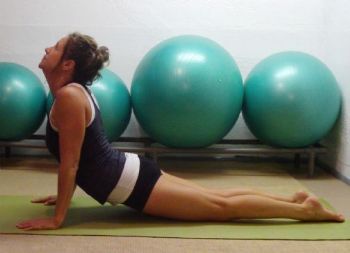 Last night the old owner Linda of the Yoga To Go Studio was teaching
and since my client was out of town I went to her Core Yoga Class. It was great to see her and be trained by her again, class RAWKED!
I love the challenge of core, but it was so hot yesterday I did not do any of my advanced moves. Such as stacked push ups or dolphins or one legged.
However I did extra advanced...try them = Down dog, to plank to chaterunga to cobra to down dog. I did 30.


Yesterdays heat wave was intense but I will go again today for another 30 minutes as my body fat is just not going down this week. But I did end up with a great deficit.
Friday stats:

Wt 122.5
BF% 25.0
BMI 21.0
The only thing I added to my meals was V-8 but I continue on through August with this meal plan and will be adding to my ST which should help shred.
I really believe the heat is making me lazy since my normal day is like this:


Get up - workout 30 mins (should be 45-1hr)
Lunch - walk 30-45 min inclines (getting 30 because of the heat)
After work - 1 hour training w/client
Nuff said, 49 *sigh.
Here is my workouts and meal plan.
Workout - Yoga Core Class + 15 Min walk at lunch

Time of workout - 1hr 15 min
Cals burned = 376
50 Jacks
Pushups:
20 Chaturanga
15 incline
20 pikes
10 military
My meals:

Breakfast
Cinnamon, ground, 1 tbsp 18 5 0 0
Banana, fresh, 1 medium (7" to 7-7/8" long) 109 28 1 1
Regular Coffee, 1 cup (8 fl oz) 2 0 0 0
Old Fashioned Quaker Oatmeal- Plain (1/2 cup dry), 1 serving 150 27 3 5
Breakfast TOTALS: 279 60 4 7
Lunch
Turkey breast meat, 4 slices 88 4 1 15
Bread, wheat (including toast), 2 slice 130 24 2 5
Peaches, fresh, 1 medium (2-1/2" dia) (approx 4 per lb) 42 11 0 1
V8 Vegetable Juice Cocktail (8 oz), 1.5 serving 75 15 0 3
Lunch TOTALS: 335 53 4 23
Dinner
Tossed Salad, 1.5 cup 33 7 0 3
*Hendrickson's Original Sweet Vinigar & Olive Oil Marinade & Dressing (GLUTEN FREE), 2 tbsp 70 17 0 0
Red Potato, 100 grams 72 16 0 2
Cheddar or Colby Cheese, Low Fat, 1 oz 49 1 2 7
Chicken Roasted Carved Breast Skinless - Perdue Short Cuts, 0.5 cup 90 1 2 16
Dinner TOTALS: 314 41 4 27
Snack
Banana, fresh, 0.5 medium (7" to 7-7/8" long) 54 14 0 1
Spinach, fresh, 1 cup 7 1 0 1
Whey Protein 100% Gold Standard Dbl Choc, 2 serving 240 6 2 48
Almond Breeze Almond Milk, Unsweetened Vanilla, 8 oz 40 2 3 1
Fire Water - 1/2 Lemon w/ 1 dash Cayenne Pepper, 1 cup 7 2 0 0
Snack TOTALS: 348 25 5 50
Snack 1
QUESTBAR Protein Bar - Vanilla Almond Crunch, 1 serving 200 22 9 20
Snack 1 TOTALS: 200 22 9 20
Snack 2
Peaches, fresh, 1 small (2" dia) (approx 5 per lb) 34 9 0 1
Whey Protein 100% Gold Standard Dbl Choc, 1 serving 120 3 1 24
Snack 2 TOTALS: 154 12 1 25
CALORIES CARBS FAT PROTEIN
Totals: 1,630 213 27 152
DEFICIT = 376