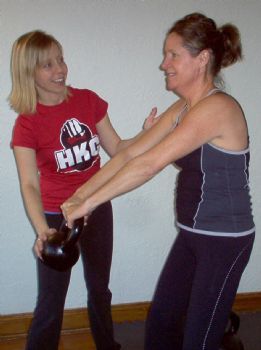 I got to workout with some profession Kettlebell trainers
, it was tough! In this shot I am just holding the 30lb Kettlebell for the photo and you can tell it was tough for me.
1. because I did an hour cardio that morning
2. because I did a 2 hour wall yoga class [which was cool and different]
3. because I was too tired to hold in my core as my form should have been
When working with the kettlebells you swing and then tighten the butt and thighs digging the toes into the mat. I had trouble doing that movement with my shoes off.


I also felt the 30lb was too heavy and switched to a 20lb bell, and my back sure felt all of that the next day. Where was I NOT SORE?
They do this testing [takes like 20 minutes] before you get to do the Kettlbell workout and it was very interesting. It is not flexibility but stabilizing and how asymmetrical your body is to avoid injury. For me they said no overhead swings.


I got a score of 12 which was very good but a 14 was perfect. I do think I may have scored better if I was not so tired and the fact that my one arm reaches up higher then the other behind my back took 2 points off.
I never saw a testing like this, any where.


Here are my workouts and even though I ate great on Thanksgiving, just turkey, a sweet potato plain, and salad with apples I had peanut butter pie ;-)
Nuff said!
My stats were better then I thought they would be
, at least my weight for sure considering my diet has not been as clean as I would have liked it to be.
Monday

Off day - rest and recover
Sunday

20 minute Zumba Express
Cals burned = 100
Wt - 123.5
BF% - 24.1
BMI - 20.8
Saturday [Insane workout day]

Elliptical - 60 min = 600 cals
Wall Yoga - 120 mins = 137
Kettlebell - 30 min = 100
Total calories burned = 837
I did straight easy cardio
Went to Wall Yoga class with straps, fun and different
Interviewed and trained Kettlebell at a new studio opening.
Friday

1 hour Hatha Yoga
Cals burned = 137
Thursday
Rest and enjoy day
Here is my change from 1 year

The first (left) is from 11/2009 the second (right) is 11/2010 as you can tell I need to do more work.
My abs are going in the WRONG DIRECTION!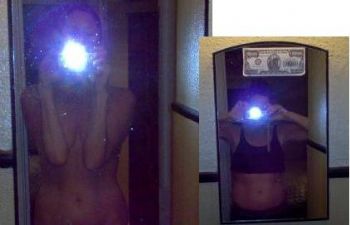 New Goals, new plans Pictures never lie!......NO EXCUSES