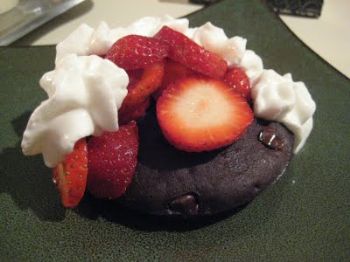 www.vitalicious.com/
I can't wait to try these,
I'm off "treats" right now but this is going in the reward section list AT THE TOP!
Here is my week so far... I know its only Wednesday but still I am patting myself on the back since I have had no treats this week.
Diet check!
Workout check!
Sleep check!
Mood check!
Today is my off day, so I did stretch. (good girl T.) I woke up with so many things I wanted to blog about and then I forgot them all how funny is that? Ever have that happen or is it just me?
You wake up in Alpha state, your best and then stuff gets in your way. I am going back to paper and pen right when I get up that keeps me focused and it only takes a minute or two.
My smoothie was super-delish!

1 scoop ice cream vanilla whey
1 banana
1 tbs peanut butter
1 cup skim
P90X Round Classic 2 Day 79

Stretch
Mood - Calm
Wt - 119.5
Time = 40 Mins
Cals = ?
Static Stretches:
Neck
Back up the car
Head rolls
Chest, back and shoulder stretch combo
Topas
Wrist, forearm
Back wrist
Dreya forearm stretch
Arm circles
Shoulder tris
Ballistic stretches
Shake outs
Hug yourself high-low
Static Stretches:
Reaches
Back/front stroke
Side stretch
Roller
Seated spinal stretch
Cat stretch
Glute stretch - I did this hand behind hamstring not knee
Wide feet forward bend - I did this arms closed
Triangle
Getting the Rockstar Body.........