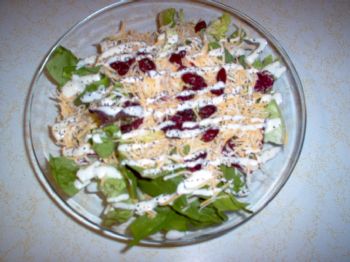 This is a salad with chicken, craisens, and cheese I made drizzled with ranch dressing.

I love making salads look "presentable". I am a mad woman over how the food is presented, really. It's like decorating a room to me, only with food its cheaper. Ta-dah!
Thank you all for the NO sugar support, I am still working on it!
Today is my real off day
, and I am only doing my OMY and stretch. Rest, recover and GROW muscles, grow.
Smoothie
1 scoop vanilla ice cream whey
1/2 banana
1 c silk
Saturdays workout:

(same pre-workout smoothie only 1/2 cup)
P90X Round 2 Day 72
Rest or Stretch
At the gym:

Mood = FIERCE!
Time of workout = 2hr 15 mins
Total cals burned = 823
15 min elliptical = 150 cals burned
1 hour power yoga class
1 hour kickboxing class w/1lb db (ROCKSTAR!)
Off to get the Rockstar Body............
PS.
As most of you know I have been talking about my marathon training, here is what I wrote on it if your interested. I also included a "how to run a marathon video" in case you want to know how to get started.
www.examiner.com/x-28813-St-Louis-Fitness-Trends-Examiner~y2010m2d7-Set-your-goal-on-running