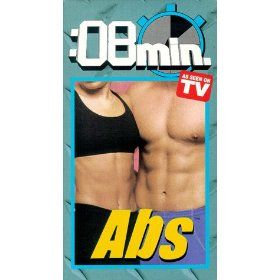 With
Jamie Brenkus
Fitin15LLC
www.youtube.com/watch?v=sWjTnBmCHTY
8 Minute Abs one of my favorite workout videos.
(sorry I tried to load this as a video but it would not let me at work)
I did this workout today, and I rate this a 10.

Fast fun and you really feel them, I have had this for years and got it at a Big Lots for $5. It also includes arms and some other workouts, and a
GREAT 8 minute stretch
.
It's a bit old school 1995, but I still go back to this when I want a fast good workout or stretch.
Ps: You can get this on Amazon
www.amazon.com/Minute-Abs-VHS-Jamie-Brenkus/dp/6303499988