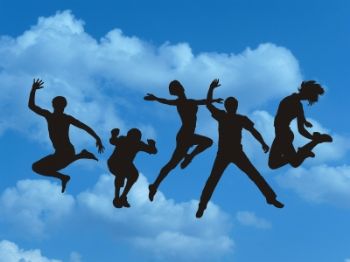 Freedigitalphotos.net
Day of Dance for Health in MO is Feb 26
if you want to know the moves here is the dance - its at the Hilton Frontenac I think I may go.
www.youtube.com/watch?v=dvn7hUO_MC4
This morning workout:
Workout - Cardio

Time of workout = 20 min Zumba
Cals burned = 50
Smoothie:
1 cup water
3 scoops vanilla whey
1 tsp olive oil
Today will be another great day for running, however I won't have time at lunch to do so with errands to run.
Let me explain,
there is a woman that comes to our Bible Study and this week she came in limping.
I asked her what was wrong,
she said her tennis shoes were too small and that they hurt her feet but that she could not afford to get any right now.
I asked her what size the shoes were, thinking maybe mine would fit (yes I have 4 pair). She said 7.5 and I think I need an 8.
She is a home care specialists (always giving to others)
and is on her feet quite a bit with clients, she said she was getting by just walking slow.
So yesterday I went to Kmart (I know here we go again) and found these shoes for just $15.00.
Hey they were $35.
www.kmart.com/shc/s/p_10151_10104_035B011507660001P?prdNo=1&blockNo=1&blockType=G1
Then I got to thinking what if she can't wear these? She is in her late 50's I guess, so today I am going to get these and let her pick. Same price same savings.
www.kmart.com/shc/s/p_10151_10104_035B016155120001P?prdNo=3&blockNo=3&blockType=G3
Since these are more like the type she had on, she may like them better then I will return the pair she doesn't like after the sale.
She is the sweetest woman,
she has always come to my community fitness class, never missing a class.
So of course I have to pay it forward with shoes and I know she will be so surprised next Tuesday.
This weekend Taxes part 2.


NO EXCUSES I MAKE IT HAPPEN