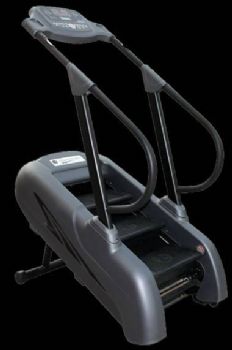 I'm having a love hate relationship with the manual stair climber at the gym.
I know, its not as bad as Tony Horton but its very "Rocky Balboa" in action.
No joke!
I am GOING TO BEAT THIS MACHINE AND DO THE FULL 20 MINUTES.
Sweat, sweat, sweat, or DIE! (I have only made it 10 mins each workout so far)
I did 63 floors its tough, that's 10 minutes and 100 calories of pure sweat!
Or I could say torcher. (it is torcher) That's why its in the BACK of the cardio section, where you can just
pass out and no one will notice your DEAD!

Just kidding....but really if you have not tried this, or ever done manual stair climbing I recommend adding it to your workouts = bootaylishous!
T. needs this, vacation is coming faster and faster and I am so not ready.
How to get ready for a fabulous body. I can tell you all you want to know its a matter of doing it that counts.
Resist temptation like the DEVIL.

(Ok sadly I let the devil in, had 1 chocolate martini and 2 bites of a brownie on girls night out Saturday)
FABULOUS BODY=

1. Get up, move, workout... do it no matter what, even when it sucks to do so
2. No excuses...you must eat the right foods - hence NO chocolate martins T. (which really made me woozy since I don't drink anymore)
3. Peer pressure be gone! They had like 4 drinks, don't fall to temptation of EMPTY calories have water. (ok unless you consider a chocolate martini instead of dessert) NO still bad T!
4. Get protein and plenty...I had fish, and green beans (Orange roughy plain and salad with dressing on the side)
5. Eat slow...its true this is BIG on saving calories
6. Hydrate with water...lots of it, who cares that I had to get up and go pee 3 times during dinner that's just extra walking. (and people watching too)
7. Want it. If you want it you can get it, PERIOD! There is no secret to that.
Saturday I tried Rachel's oat eggs, with honey, and love them! If anyone wants to know about here is the link.

www.sparkpeople.com/mypage_public_journal_individual.asp?blog_id=3093128
I was full for 4 hours and very satisfied with the taste too. (hope my trainer likes it too)
Here are my workouts,
today is my off day but I will be teaching cardio mix tonight with some FUN Mountain climbers.

My next workout program will be ChaLean for 12 weeks
, and Yoga Meltdown (bc I am addicted)
Saturdays workout:

Workout -
Power yoga & Kickboxing class

Workout Time = 1 hour 45 mins
Cals burned = 537
1 hour power yoga class
45 min kickboxing interval class w/3lb db
Boxing moves - kicks, jabs, crosses, upper cuts
Speed bags
Boxer shuffle
Jump squats
Squat thrusts
Mountain climbers
Planks
Jumping jacks
Scissor jacks
Sundays workout:

Workout =
Cardio

Time of workout - 30 mins
Cals burned = 300
20 mins elliptical with overhead sprints intervals every 1 minute
10 min manual stair climber - this workout RAWKS with toughness!
NO EXCUSE ... I MAKE IT HAPPEN