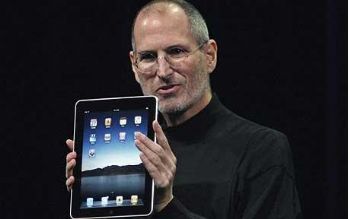 How great would that be!

If your on "pre-order" to get one tomorrow I am just wondering how many want this little gadget that's making history. (I can't swing it right now $ and I am not that high tech but it seems really KEWL!)
So far Friday is starting out very good:

1. Got up worked out BLASTED Shred Level 1
2. Had my weird food, yogurt, oil and whey.....yum
3. Made some banana bread, fat free and not fat free and brought to the office since I can't have bananas and had a whole bunch I could not bare to throw out (and SAVED calories, GO T.)
4. Organized and added all my March receipts for the home budget
5. Will take a walk/run at lunch... woo woo
Last night we saw the best live performance for FREE at a church near my house, WE loved it!

www.scccenter.com/index.cfm/pageid/1846/index.html
Alive Again......so POWERFUL! It was an amazing show, really brought to life and so many tears and emotions.

I just want to wish everyone a wonderful Easter holiday weekend, and to enjoy your family time. God Bless.
PLUS....I did get in a
10 min run, and 35 walk = 45 min with inclines
at lunch yesterday as my split workout. Single leg squats, and 50 regular crunches as a bonus...buh bye muffy top!
30 Day Shred Level 1

3-2-1 (3 min strength, 2 min cardio, 1 min core)
Mood - TGIF!
Wt - 120
Time of workout = 25 Min
Cals burned = ?
Stats:
WT - 120
BF% 23.1 this is +but my new diet should change this (Day 4)
BMI 20.6
Warm up:

Windmills
Hip circles
Knee circles
Workout:
Pushups - 15
Bent over rows - 15lb
Reg bent knee crunches
Jump jacks
Jump rope
Jump jacks
Back lunge w/bicep curl - 10lb
Arm punches
Bent knee oblique crunches
Glute kicks
Jump jacks
Glute kicks
Laying chest flys - 10lb
Side lunge w/shoulder raise - 7lb
Jumping jacks
Butt kicks
Jump rope
Arm punches
Side obliques
Cool down:

Wide leg stretch
Quad stretch
NO EXCUSES, I MAKE IT HAPPEN!