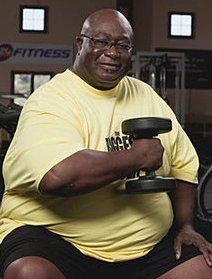 Poor O'Neal was hurt last night and I was so worried for him!

When he fell I was hoping he would get back up but did not, and Sunshine was frantic as I would be too if that was my dad wouldn't you?
I can't believe that Victoria had only a 1lb loss and could not believe how Koli gigged her so bad!

Good for her for using that as fuel to her fire
,
I may have just decked him for that comment..........any thoughts?
www.examiner.com/x-28813-St-Louis-Fitness-Trends-Examiner~y2010m4d21-Biggest-Loser-ONeal-gets-injured-leaves-in-ambulance
Did anyone know that Sun chips bags are bio-degradable?
I had no idea, and what about next week do you think we will see Shay?
I'm still looking for Ashley to have more success or have her or Sunshine win. No workout today, I am taking the day off and tanning!