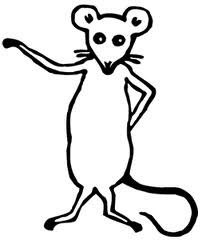 Image: briarpress.org
Last night was mouse racing at my Credit Union meeting, so much fun. Have you ever done this?
However it ended at 10.30 (way past my bed time lol) then I also had to shower. I was restless and could not sleep (mice running in my head lol), I think I got about 6 hrs sleep if I am lucky.
So that made me proud to get up and workout anyway, Go T. Plus I never did a regular ST workout to Zumba music but it was FUN. This is another way for me to learn the music cues.
Yesterday my pants felt very loose on me, and I think some of my changes may be in my waistline. I have not weighed and won't until Friday, but I don't see any changes yet.
Green Monster:
Nanertastic!
1 cup spinach
2 scoops hydro whey in vanilla - new one for me
1 tsp olive oil
1 banana
1 cup cold water
Workout - Circuit training (to Zumba music)
Time of workout = 20 min
Cals burned = 133
Warm up 7 min:
100 jacks on jogging square
5 mins jogs w/arm movements
arm circles and overhead arm w/huggers
High knees
Glut kicks
Front kicks
Workout 20 min:
Back row 15lb db 3x12
Chest press 15lb db 3x12
Bicep curls 15lb db 3x12 - 2x / Hammer curls 3x12 1x
Tricep skull crushers 15lb single db 20 reps
TRX squats/side lunge
Cool down:
TRX stretch
Back
Legs
Arms
Here are my meals:
Breakfast:
Coconut, raw, 25 grams 89 4 8 1
Cinnamon, ground, 1 tsp 6 2 0 0
Mangos, 0.5 cup, sliced 54 14 0 0
Walnuts, 1 oz (14 halves) 189 4 19 4
Old Fashioned Quaker Oatmeal- Plain (1/2 cup dry), 1 serving 150 27 3 5
Breakfast TOTALS: 487 51 31 11
Lunch:
Shrimp, cooked, 4 oz 112 0 1 24
Lunch TOTALS: 112 0 1 24
Dinner: (at the mouse racing banquet center)
Tossed Salad, 0.5 cup 11 2 0 1
Hershey Kisses (one kiss), 4 serving 88 11 6 1
Green Beans (1/2 cup), 1 serving 20 4 0 1
Italian Salad dressing, 1 tbsp 69 1 7 0
Chicken Breast, no skin, 0.5 breast, bone and skin removed 130 0 1 27
Dinner TOTALS: 317 19 14 30
Snack:
Water, bottled, 1 serving 0 0 0 0
Whey Protein 100% Gold Standard Dbl Choc, 2 serving 240 6 2 48
Olive Oil, 1 1tsp 40 0 5 0
Banana, fresh, 1 small (6" to 6-7/8" long) 93 24 1 1
Lemon Juice, 1 wedge yields 1 1 0 0
Snack TOTALS: 374 30 7 49
Snack 1:
Pineapple, fresh, 0.5 cup, diced 38 10 0 0
Pears, fresh, 0.33 cup slices 32 8 0 0
Cashew Nuts, dry roasted, 1 oz 163 9 13 4
Hard Boiled Egg, 1 large 70 1 5 6
Snack 1 TOTALS: 303 28 19 11
Snack 2:
ON 100% Casein Chocolate Supreme (33g), 33 gram 120 3 1 24
Snack 2 TOTALS: 120 3 1 24
CALORIES CARBS FAT PROTEIN
1,714 130 73 149
MISSION = BIKINI