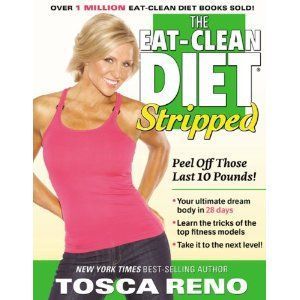 Today is day 9, and I am doing pretty good.
Last night I did have a Oh Yeah bar for dinner after training since I had no time for dinner before hand. I then had an evening snack of 1/2 pear and 2 tbs of almond butter.
Tonight is an italian cooking class, I will get everything plain but the temptation will be the triple cheesecake. This is a watch and learn, not a participation class.
Menu:
Spinach and artichoke
Salad
Chicken parmesan
Fettichini
Home made bread
Triple cheese cake - YIKES!
Today's workout:
Workout - JM Ripped Week 3 (1/2 way)
Time of workout = 20 min
Cals burned = 133
Warm up:
Sledge hammer w/5lb db
R & L Bending stretch switch left leg back touch floor then forward bring leg up to chest
R & L Lunge w/twist
3 min ST
Bear crawls (lift knees while crawling)
Frog leg crawl
Squat w/back row w/opposite palm lifted one up one down
2 min Cardio
Squat jacks
I will try to finish this tomorrow after work. Monday is my off day, but I did train my client tonight for 1 hour with a 45 min workout as follows:
(and I create all my workouts myself so if you use them please give credit)
Workout - TRX - Stability Ball and Bootcamp
Time of workout = 45 mins
Cals burned = 159
Warm up:
Arms over head
Squat reaches
Back rounds
Arm circles
Side lunge
Knee ins
Workout:
TRX - 1 min intervals
Squats
Side lunges
Chest press
Shoulder laterals to back
Calve stretch alternating
Back stretch
ST - on the ball at the wall
Wall squats plia w/5lb db and bicep to overhead press
Wall squats plia w/8lb one holds one lifts
Wall squats plia w/5lb db toe lifts
Wall squats w/ 20lb kettlebell pick up to upright row
ST - on the ball
8lb and 15lb chest press combo lateral lift
15lb chest flys
16lb skull crushers
Hyper extensions
Hyper extension w/arm lift and donkey kick
Outside boot camp sprints - 7 min (counting this as Wii)
Run w/2lb db inclines
Run w/3lb db inclines
Lunges w/3lb inclines w/chest press
Lunges w/3lb inclines w/overhead press
Walking incline 2 times recovery
Skip inclines 1 time
Run incline as fast as possible 2 times
Step ups 12" 20x2
Cool down:
Grapevine
Over head arm reaches
Lunges hands inside leg to toe lifts R & L
3 rounded backs stretch
Bicep tricep stretch
Standing Hamstring stretch
Sitting down to cross leg chair glute ham stretch hold
Side stretch
Neck rolls
BIKINI MISSION