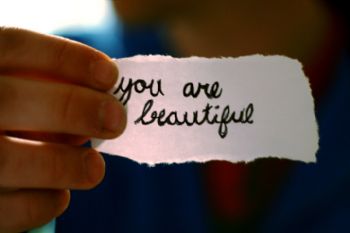 I am feeling pretty good about my workouts and blasted 276 cals yesterday
and today added 5 more pushups to my workout.
The idea was also to run last night but then I saw Glee on and got sucked in. I don't watch much TV but love that show.
Something about the styles and the music really make me feel good when I watch it, since so much on TV is negative.
When they sang the song "You are beautiful" it really touched me as each and everyone of us has beauty in us.


Most of us are hardest on ourselves and see things that no one even notices
, (my nobby knees) but you have to let that go and see the good in you. Focus on all the positives and see how things start to kick in for you.
People will notice a change in you, and so will YOU. So take time to see that your beautiful and be grateful.
(Note to self, forget that you saw things giggle during your workout and focus on good things)
Today's after workout smoothie:

1 scoop chocolate casein whey
5 strawberries
1 cup water
a splash of milk
P90X Round 3 Week 6 Day 1
Workout - Core Synergistics

Wt - 121
Mood - Smiles
Time of workout = 45 mins
Cals = 292
Stacked foot pushups - 20 [I added 5 to this from last week]
Banana Roll Boats - 24
Leaning Crescent Lunge - 24
Squat run w/3lb DB 1 Min
Sphinx pushups - 10
Super man Boats - 15
Low lateral skaters - 30
Lunge reach w/5lb DB - 30
Prison pushups to max - 10
Side hip raise - 12
Squat X Press w/3lb DB - 30
Plank tatarunga runs - 10 sec switch 1 min
Walking pushups - 20
Lunge kickback curl press - 5lb db 2 min
Towel hopping 1 min
Reach high under pushups (T stand with twist) 1 min
Steam engines - 50
Dreya roll - 12 (1 min)
Bonus:

Plank to chaturanga - 1 min
Half back - wide tires 4 up, high knee run back 6
Table dip leg raise - 25 (backward bridge w/leg lifts)
ps - I need only 3 more votes to get my blog to page #2 if you could please click the "Blogger Choice Award" icon and vote for me I would be very grateful!

NO EXCUSE I MAKE IT HAPPEN