I made this creation last night and brought it in my lunch today, its SCRUMPTIOUS!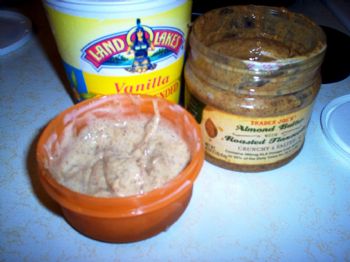 Im
in love ;-)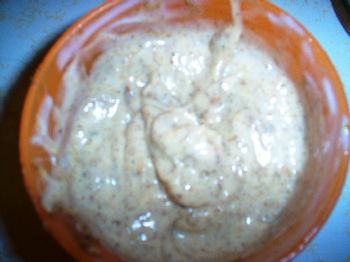 With Yogurt and Almond butter!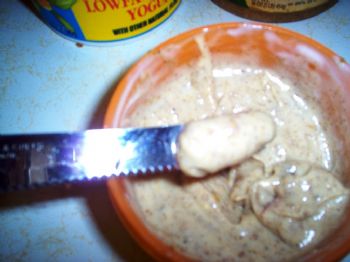 Look how creamy and decadent it is!

Yes tonight I decided to be creative and I mixed
1 tbs of Trader

Joe's

Almond butter with roasted

flaxseed

with 1/2 cup of Vanilla Yogurt
and the outcome was D-
LISH
!
I tried dipping strawberries in it, but I like it just plain OR maybe with apples and some dark chocolate shreds.... hum. How about frozen bananas with this, just get creative.
The
consistency
stayed nice and
creamy just like regular Yogurt only it gave it the nutty and crunch of an

scrumptious

naughty candy ice cream something or other.

I did use a cheap yogurt with bad stuff in it but if you used a 0 Greek and a sweetener, this could be even more delightful and more healthy with higher protein and less
carbs
.
If you like sweet and salty this is one for you!

Ok
the low down:
Serving 1/2 cup
Cals
= 205
Fat = 9.5 [the good fats]
Carbs
= 26
Protein = 7g
Yup, its a keeper........move over
Resess
Peanut Butter Cup, Hello Almond Yogurt!
NO EXCUSES I MAKE IT HAPPEN