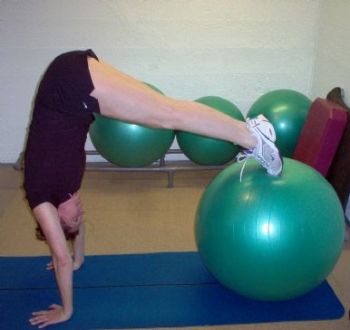 This weekend I did rotations of workouts to match the P90X program.
Tomorrow is Week 7 recovery, I RAWKED my workouts blasting 1026 calories to the CURB!
I blasted out some workouts knowing I was going to have pizza [Mountain dew too] and I really am proud of T. I had a new teacher at Yoga on Saturday and we did more moves in a faster pace and I loved it.
My favorite move - Windshield wipers (see youtube trainertfitness)
My least favorite - this hamstring stretch against a wall, sheesh.
I got in, cardio, legs and kettlebell and feel really fabulous today and will be doing a walk at lunch we have glorious weather this week.

Todays smoothie:
1/2 banana
2 scoops vanilla whey
1/2 c skim
Plus I created a new fun meal by mistake will blog on that later with pics.
Here are my NOT PLAY'N workouts.......

Sunday workout:
Workout - Legs at gym, JM w/Kettlebells, Walk

Mood - Get it girl
Wt - 122
Time of workout = 45 min + 25 kettlebell + 45 walk
Cals burned = 443
5 min elliptical warm up
2x12
Squats 60 -70lb
Laying glue press 55lb
Standing leg - 45lb
Hyperextension - 5 -10
Back extention - 40
Dead lift db - 25lb
Reverse abs machine 20
Manual stair climber - 10 min
68 flights
Afternoon workout:
Jillian Michael's Shred w/Kettlebells

I used a12lb Kettlebell - this is AGRESSIVE FOR ME.
Arm swings
Pass kettlebell at waist level - R & L
Pass Kettelbell at head level - R & L
Twist hold in front
Repeat 2 times (first R then L)
Bridge w/shoulder press & leg lift
Swings front - 20
Squat w/front row - 20
Repeat 2 times (first R then L)
Front swings w/switching arms
Lunge w/back row
Crunch holding kettlebell at core
Triangle w/over head snap press
3 way hop holding bell at chest
Laydown get up holding kettlebell
Full swings w/head between legs
After dinner 45 minute walk

Saturday workout:


Workout - Kickboxing on Elliptical & Yoga Class



Mood - I'm not play'n
Wt - 122
Time of workout = 1hr 45 min
Cals burned = 583
Straight cardio with boxing sprints levels 10-15 incline 4
Hatha 1 hour Yoga Class
NO EXCUSE I MAKE IT HAPPEN!