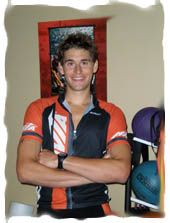 Ben Greenfield Trainer and Tri-athlete

Try some head rolls today, they feel so good. I am on Benadryl thinking I have a cold, so I am really sleepy right now *sigh
I have been trying to be "super" productive this week. I did get 2 videos posted one on Dolphin pushups and a Knee 3 workout.
I challenge you to try the Dolphins I did 10:

www.youtube.com/trainertfitness
My goal is always to try to do things others on line are not, that in itself is a huge task because the internet is clutter with so many videos its hard to separate the good from the bad.
I don't have a workout to post today, but fished my run yesterday as I said I would
but did not get in an after dinner walk. I
find that when I run, and start to get tired I use more of my hipflexors to keep going.
Plus I have to have good tunes on.
My legs are still like RUBBER today, and my back is a bit sore from the Kettlebells swings but loved it.
Today would have been Core X but I am going to skip that today and go for Cardio X for Wednesday.
Not that I don't want to do it, just that all the kettlebell swings plus running has my back and core feeling it so a day of rest in that area is in order.

Most of you have heard me talk about Tom Venuto many times he is a great trainer and I get his newsletters. Just google him to see how good he is.
But there is also a
younger trainer
that has some good tips named Ben Greenfield.
www.bengreenfieldfitness.com/
He is more of a Tri-athlete so some of the things he promotes I don't really deal with, but am happy to share him with others looking for this type of training.
If you subscribe you REALLY will get his ebook FREE and it has some great information, just saying.
I hope you will check out my videos, and rate them
or maybe you will try them and they can help you. Today's workout may be a lunch run again.
NO EXCUSE I MAKE IT HAPPEN!