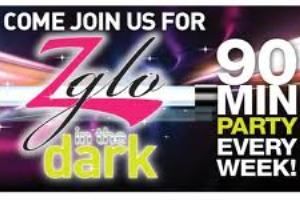 A studio near my office is offering this starting tonight.....how cool is that?
Image and Classes:
www.Zfitstudio.com
Any thoughts its called Zglo????
Would you try it???
I would but I have a client tonight, so its out for me and once I leave Fenton I don't want to head back for the night. *sigh.
Last night I finished up the "back to school" shopping for my nephew,
and spent more then I thought but got some great buys. Old Navy 4 hoodies = $40 on clearance that's just $10 bucks each!
No way was I going on the TAX FREE crazy weekend starting today!
I managed to get home late, so I made portabella mushrooms with squash and Mozzarella Cheese. D-lish I think all the cooking stuff I have been watching paid off. But I forgot my last Whey Casein so my protein was not as high as I wanted it to be.
I got in about 10 minutes of Zumba last night so I am NOT counting that.
I also did my stats this morning and no change. I was a bit low on my calories but I felt really great, unless I was on a shopping high lol.
Weight - 123
Bf - 24%
BMI - 19.1%
My workout:
Workout - Yoga / Cardio Day

Time of workout - 15 mins
Cals burned = 66
My meals

Breakfast
Cinnamon, ground, 1 tbsp 18 5 0 0
Regular Coffee, 1 cup (8 fl oz) 2 0 0 0
Old Fashioned Quaker Oatmeal- Plain (1/2 cup dry), 1 serving 150 27 3 5
Nutella, 1 tbsp 100 11 6 2
Dole Pineapple Tidbits 100% Pineapple juice, 0.5 cup 60 15 0 0
Breakfast TOTALS: 330 58 9 7
Lunch
Cheddar or Colby Cheese, Low Fat, 0.5 oz 25 0 1 3
Turkey breast meat, 6 slices 133 5 2 22
Red Potato, 100 grams 72 16 0 2
Dole Mixed Fruit, 1 serving 60 16 0 1
Lunch TOTALS: 289 38 3 28
Dinner
Portabella Mushrooms, 100 grams 26 5 0 3
Mozzarella Cheese, part skim milk, 1 oz 72 1 5 7
Summer Squash, 8 slice 13 3 0 1
Dinner TOTALS: 111 9 5 10
Snack
Banana, fresh, 1 medium (7" to 7-7/8" long) 109 28 1 1
Spinach, fresh, 1 cup 7 1 0 1
Almond Breeze Almond Milk, Unsweetened Vanilla, 8 oz 40 2 3 1
Whey Protein 100% Gold Standard Dbl Choc, 2 serving 240 6 2 48
Fire Water - 1/2 Lemon w/ 1 dash Cayenne Pepper, 1 cup 7 2 0 0
Snack TOTALS: 402 39 6 51
Snack 1
Watermelon, 1 cup, balls 49 11 1 1
Cashew Nuts, dry roasted, 1 oz 163 9 13 4
Snack 1 TOTALS: 212 20 14 5
Snack 2
Nutella, 1 tbsp 100 11 6 2
Snack 2 TOTALS: 100 11 6 2
CALORIES CARBS FAT PROTEIN
Totals: 1,444 175 42 103
DEFICIT = 66