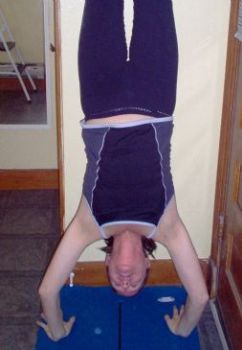 Handstand pushups, gotta love'm.
I was out of town over the weekend, giving my nephew a brand new wardrobe for school. He seemed to really like it all, well the skinny jeans, hoodies and hightops for sure.
Today I needed some Monday Motivation.......enjoy!


" Small opportunities are often the beginning of great enterprises."
Author Unknown
" Live like there is no tomorrow! Constantly move forward and appreciate the motivation for your existence! It has cause! It has meaning! It has reason! Never give up and never look back! Choose to make a meaningful difference in your life and the life of others. Do it every day and DO IT BIG!!!"
Copyright © 2011 Jimmy Hagewood
" Do not reach but leap for the stars."
Written in 2011 by Roy Dela Calzada
" The boundary between FAILURE and SUCCESS is a very THIN LINE. That line is ATTITUDE."
Author Unknown
" What you get by achieving your goals is not as important as what you become by achieving your goals."
Zig Ziglar
" Stay committed to your decisions, but stay flexible in your approach."
Tony Robbins
" To be Successful and the best in your field, all you need to do is to beat your yesterday's achievements today. There is no better competition."
Written in 2011 by Joyal Mehta
" Dream big; at least you will have the joy of reaching for the stars instead of living in a box filled with unopened gifts."
Written in 2011 by David Robinson
" Every great success is an accumulation of thousands of ordinary efforts that no one else sees or appreciates."
Brian Tracy
" The difference between success and failure is determination."
Written in 2011 by Richmond Wilson
" Give yourself a perfect day. Do what makes you happiest. Look upon what gives you joy. Speak to those who warm your heart. Listen to that which lifts your spirit. Surround yourself with sights and sounds and people who give you pleasure. For all the happiness you give to others all year long, give yourself a perfect day."
Unknown Author
" All power is within you; you can do anything and everything. Believe in that; do not believe that you are weak. Stand up and express the divinity within you."
Author Unknown
" Happy are those who dream dreams and are willing to pay the price to make them come true."
Author Unknown
" Even in the dark a little star shines, so let each day be your masterpiece of light."
Spencer Chapman