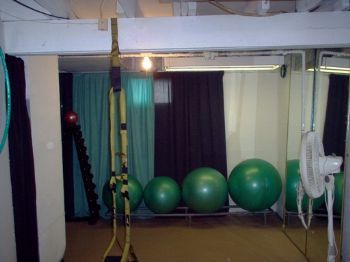 Back home and back in my fitness studio

Thank you all for the uplifting notes and comments. It has made my life more comforting because of them.
I will be making a memory box for my mom and dad now that both are in Heaven, placing all the things I have collected and given during the loss of them here on earth.


When I get it completed I will post a picture and some of the lessons that my parents have taught me that have molded me to be who I am.
Now on to getting back in the swing of things.
I am trying to do the 100 Squat Challenge by Amy, but as you know sometimes my knees bother me. Also I have not worked out in a week, so 25 after 40 minutes of Zumba was aggressive for me.
100 Squat Challenge = 25

Workout - Cardio Zumba

Time of workout - 40 min
Cals burned = 198
Basic Zumba
Zin 34
Getting back to eating correctly, with higher calories.
My meals:

Breakfast
Cinnamon, ground, 1 tbsp 18 5 0 0
Regular Coffee, 1 cup (8 fl oz) 2 0 0 0
Old Fashioned Quaker Oatmeal- Plain (1/2 cup dry), 1 serving 150 27 3 5
Dole Pineapple Tidbits 100% Pineapple juice, 0.5 cup 60 15 0 0
Skippy Natural Creamy Peanut Butter, 1 tbsp 95 3 8 4
Breakfast TOTALS: 325 50 11 9
Lunch
OhYeah High Protein Bar - Peanut Butter Caramel, 1 serving 380 30 19 27
Lunch TOTALS: 380 30 19 27
Dinner
Kashi GoLean Cereal (1 cup), 1 serving 140 30 1 13
Almond Breeze Almond Milk, Unsweetened Vanilla, 8 oz 40 2 3 1
Peanut Butter Dark Chocolate Dreams Flavor (All natural by Peanut Butter & Co), 1 tbsp 85 6 7 3
Dinner TOTALS: 265 38 11 17
Snack
Banana, fresh, 1 medium (7" to 7-7/8" long) 109 28 1 1
Spinach, fresh, 1 cup 7 1 0 1
Almond Breeze Almond Milk, Unsweetened Vanilla, 8 oz 40 2 3 1
Whey Protein 100% Gold Standard Dbl Choc, 2 serving 240 6 2 48
Fire Water - 1/2 Lemon w/ 1 dash Cayenne Pepper, 1 cup 7 2 0 0
Snack TOTALS: 402 39 6 51
Snack 1
Chobani (Non-Fat Greek Yogurt - Strawberry), 1 serving 140 20 0 14
Snack 1 TOTALS: 140 20 0 14
Snack 2
None
Snack 2 TOTALS: 0 0 0 0
CALORIES CARBS FAT PROTEIN
Totals: 1,513 177 46 118
DEFICIT = 198