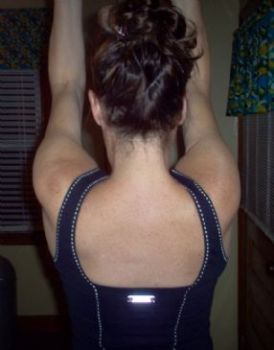 I love this workout, I love working back it is my favorite other then tricep.

I increased weights and dropped reps, it felt fabulous! I could feel that run I did yesterday in my legs, wow....thats a good thing. Its been a while since I really did a nice steady great weather run that I really was in the zone.
Bad news - my ear buds died.....may they rest in peace.

They have been giving me some on again off again sound so I knew it was just a matter of time, the
good news is it was at the end of my run. I can't run with out music
!
As a matter of fact our mail guy is some famous DJ (he goes to Atlanta a bunch) and he gave me some "soon to be released" music, and I heard one of the songs last night on DWTS.....that was so ROCKSTAR!
He said it was ok for me to use them on Youtube as the contracts are signed and that it was not a copy write infringement. Another great thing! Super happy to video now.
So today at lunch I will stock up on supplies at GNC
and later get some new Best Buy ear buds. NO SHOES!
After workout smoothie:
1 banana
1 scoop vanilla whey
1 c water
P90X Round 3 Lean Phase 3 Week 2 Day 3

Workout - P90X Back and Bicep
Mood - Happy
Wt - 124
Time of workout = 40 mins
Cals burned = 120
Wide pull ups 20
Lawn mower 15lb 15
Twenty ones 15lb - 21 - full, 1/2 curl, full
1 Arm cross body curl 15lb 15
Switch grip pull ups 20
Elbow out lawn mower 15lb - 15
Standing bicep curls 15lb - 8
1 Arm concentration curls 15lb - 10
Corn cob pull ups 10
Reverse grip bent over rows 15lb - 15
Open arm curls 10lb - 15
Static arm curls 10lb - 16
Towel pull ups 6
Congdon locomotive 15lb - 40
Crouching cohen curls 10lb - 12
Corkscrew curls 10lb - 10
NO EXCUSE I MAKE IT HAPPEN!