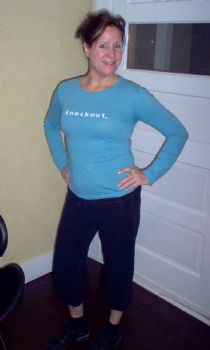 My workout outfit last night, thanks Ellipse Fitness owner Ann Morrow
This is the dinner I made, I have really enjoyed this even if it is a summer salad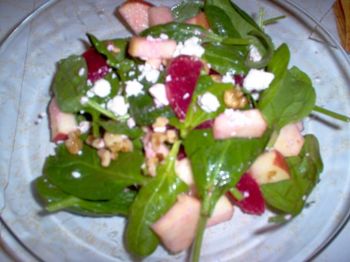 Yummy Beet Salad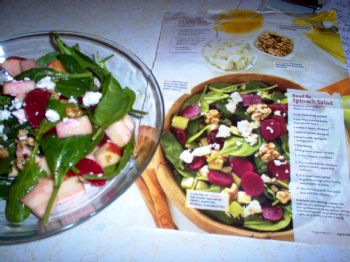 Oxygen Mag recipe with my salad next to it, they look pretty much the same right? I finished the night with 1 scoop of Whey Casein.
Monday:

Off
Tuesday:

Workout - Cardio run + Client training
Time of workout - 40 min
Cals burned = 245 + 99 = 344
Lunch workout:
3 Mile run
5 Min incline walk
Client training:
Boxing:
Rounds 2 min on 2 off, 3 min on 2 min off
20lb Kettlebell:
Kettlebell swings 2 min x 2 - second drop arm
Kettlebell halo
Kettlebell dead lifts
(I used a 25lb bell)
15lb Sandbag core training:
1. Bag on knees for reverse double crunch
2. Bag over head holding bag straight up reg crunch
3. Bag on core double crunch
4. Bag behind head between V legs
Pull ups wide - 15
Pull ups center arm - 20
I will try to do food and workouts faithfully. My client had an injured knee so Thursday workout will be more lower body.