I really like this cookbook, it has many easy recipes and lots of ways to adapt them. That kind of variety I enjoy since it lets out my creative side.
Breakfast yummo green monster w/blueberries my second favorite to this one raspberry.....its pretty!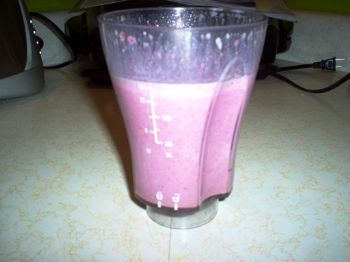 Last night workout with client:


Workout - Client upper body circuit
Time of workout - 30 min (60 minutes for client)
Cals burned = 198
30's add weights =
Bicep Hammer curl 5lb, 8lb, 10lb X2
Bonus 15lb 3 x2 (I did 2x30 15lb)
2 min - Step up 20"
30's add weights =
Sitting lateral raise 2-way 5lb, 8lb, 10lb X2
2 min - Plank jacks
Rows 15lb db 2x30
Bench dips 50
2 min - Mountain climbers
Pushup modified on small Pilate's ball 2x10
Chest press 15lb db 2x10
Hyper extensions on stability ball single leg/arm lift 10lb
Super man on stability ball 20
Glutes - 25 each move
Bridge on ball to straight leg lifts
Bridge on ball to straight leg no drop down
Core - 25 each move
Overhead db to chest double crunch 10lb
Pilate's ball to feet w/overhead reach up 10lb
Lower leg drop down double crunch
Jump switch lunges 1x20

Assisted pullups w/chair
Pullups 10
Chins 10
Tri chins 10

Dinner was recipe #2 from the Spark cook book = YUM!
Ready for the oven and easy to clean just throw it away......poof kitchen clean up time 5 minutes!
Coconut shrimp (slimmed down by me)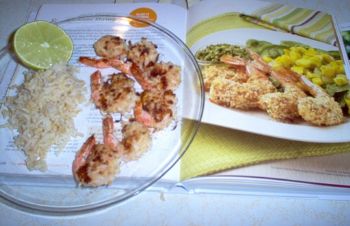 Mine was a bit darker I almost forgot to flip them over :-)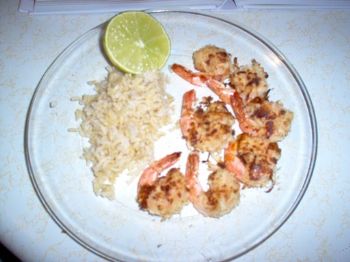 I will make this again! Easy and fun.......just roll and place on baking pan at 350 for 5 min flip shrimp add another 5 mins. I squeezed the lime over my rice, it made it amazing with the sweetness of the coconut.
According to the cookbook:
Cals 258 (per 5 shrimp) REALLY I had 20 and did not add all the coconut, or the breadcrumbs
fat 8
carb 18
protein 28

rice + 250

I used egg whites, rolled in flour then roll in breadcrumb coconut mixture. I added 1/2 cup rice with the lime on it.
Wow I felt like I was on vacation!