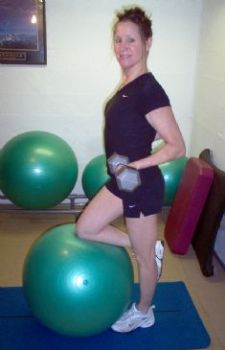 Today we have sunshine, I was pumped to do my strength training back and biceps.
Workout - Back and biceps
Time of workout - 20 min + 5 warm up
Cals burned = 60
Warm up - jog square w/arm circles and jacks
Bent over rows - 15lb db 2x10 + 25lb db 1x8
TRX Back Fly - 3x10
Supermans over ball - 3x10 (2 on med ball 1 set on small ball)
Bicep curls - 15lb db 2x8
Hammer curls - 15lb 1x10
TRX chins 3x10
Yesterdays meals made me feel very full which is good. I had no cravings except for a pear after dinner. (broccoli need I say more)
Sunday I actually had forgot to get fresh spinach. So I made my smoothie with almond milk, whey and a bannan. So not the same as a Green Monster! Something about that spinach in the morning, varoom!
Also I tried part of Rachel Macs advice and added Cyanne pepper to my lemon water in the morning first thing. HOT! Oh and she adds fish oil and flax and calls it sluge or something like that.
Im not a quiter so I will try it the rest of the week, but let me say that it did make me go to the bathroom right away and it certainly woke me UP.
Here is how yesterday went, and it was my off day so no workout. (I was going to walk but the car needed oil so I did that urgent errand instead)
Breakfast:
Cinnamon, ground, 1 tbsp 18 5 0 0
Apples, fresh, 1 medium (2-3/4" dia) (approx 3 per lb) 81 21 0 0
Walnuts, 0.5 oz (14 halves) 95 2 9 2
Old Fashioned Quaker Oatmeal- Plain (1/2 cup dry), 1 serving 150 27 3 5
Breakfast TOTALS: 344 55 13 8
Lunch:
Hard Boiled Egg, 2 large 140 1 11 13
Pepper, black, 2 dash 1 0 0 0
Pickle Relish, 1 tbsp 20 5 0 0
Tuna, Albacore, in water (Starkist pouch), 3 oz 110 1 3 21
Sunflower Seeds, without salt, 0.5 oz 82 3 7 3
Lunch TOTALS: 353 11 20 36
Dinner:
Pears, fresh, 1 pear, small (approx 3 per lb) 82 21 1 1
Broccoli, frozen, 0.5 package (10 oz) 41 8 0 4
Roasting Chicken, light meat, 1 cup, chopped or diced 214 0 6 38
Dinner TOTALS: 337 29 7 43
Snack:
Banana, fresh, 1 small (6" to 6-7/8" long) 93 24 1 1
Whey Protein 100% Gold Standard Dbl Choc, 1 serving 120 3 1 24
Almond Breeze Almond Milk, Unsweetened Vanilla, 8 oz 40 2 3 1
Snack TOTALS: 253 29 5 26
Snack 1:
Whey Protein 100% Gold Standard Dbl Choc, 0.5 serving 60 2 1 12
Strawberries, fresh, 1 cup, halves 46 11 1 1
Snack 1 TOTALS: 106 12 1 13
Snack 2:
Gold Standard 100% Casein Protein, 1 serving 120 3 1 24
Snack 2 TOTALS: 120 3 1 24
CALORIES CARBS FAT PROTEIN
1,512 139 47 150
MISSION = BIKINI