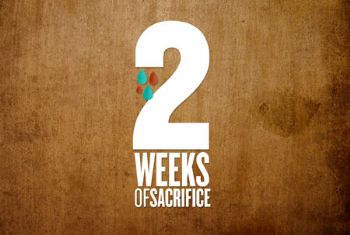 Image: www.bloodwatermission.com
This completes 2 weeks of the Rachel Mac Workout program, I feel sore but great!
This Saturday at 8am there is going to be a FREE community fitness event at my old High School that I will be attending. I can't wait to see the turn out, and will stay till about 9am then get ready for Yoga class at 10am.
Last night was cardio with my client and we got in a great 30 min sweat fest, finished up with some wall squats and stretch. I really feel like next week I can take it up a notch with her, she is adapting very well so far.
Guitar practice = 15 minutes (should have been 30 *sigh)
Workout - Rachel Mac Workout Legs
Time of workout = 25 min
Cals = 75 + 140 w/client
Week 2
Note from Rachel (I do my cardio at lunch but today could be rain)
"Every other day, you should do cardio after you strength train, but on legs day it's a good idea to get some light warm-up cardio out of the way because your legs will be trashed by the time you're done!"
Warm up -
2 min Jacks
Run lunges
High knees
Butt kicks
Rachel Mac Workout Day 4 - Legs
•Squats: 12x 3 (butt touching bench then 2 sets reg squats 15lb db)
•Weighted Lunges: 3 x12 15lb db (front and side like P90X)
•Sumo squats 3x12 w/15lb db - loveum ;-)
•Skaters 2x25
•Stiff-legged dead lift: 3x12 15lb db
•Glute bridges: 3x10
•Calf lifts 2x15 w/15lb db
Yesterdays Meals looked like this:
Breakfast
Old Fashioned Quaker Oatmeal- Plain (1/2 cup dry), 1 serving 150 27 3 5
Sunflower Seeds, without salt, 0.5 oz 82 3 7 3
Banana, fresh, 1 medium (7" to 7-7/8" long) 109 28 1 1
Cinnamon, ground, 1 tbsp 18 5 0 0
Breakfast TOTALS: 359 64 11 9
Lunch
Mozzarella Cheese, part skim milk, 1 oz 72 1 5 7
Mushrooms, fresh, 2 large 10 1 0 1
Ground beef, extra lean, 3 oz 199 0 15 16
Kraft Jello-o Brand Fat Free Sugar Free Pudding, Chocolate, 1 Serving 60 8 0 0
Lunch TOTALS: 341 10 19 25
Dinner
Turkey, Louis Rich Smoked White Turkey, 2 serving 200 4 8 26
Bread, wheat (including toast), 1 slice 65 12 1 2
Dinner TOTALS: 265 16 9 28
Snack
Olive Oil, 1 1tsp 40 0 5 0
Banana, fresh, 1 small (6" to 6-7/8" long) 93 24 1 1
Water, bottled, 1 serving 0 0 0 0
Pepper Cayenne or Red, 1 tsp 6 1 0 0
Lemon Juice, 1 wedge yields 1 1 0 0
Regular Coffee, 1 cup (8 fl oz) 2 0 0 0
Quest Protein Bar - Vanilla Almond Crunch, 1 serving 230 19 12 20
Snack TOTALS: 373 44 17 22
Snack 1
Cheese string Borden Mozzarella, 1 serving 70 1 4 6
Apples, fresh, 1 medium (2-3/4" dia) (approx 3 per lb) 81 21 0 0
Snack 1 TOTALS: 151 22 4 6
Snack 2
Gold Standard 100% Casein Protein, 1 serving 120 3 1 24
Snack 2 TOTALS: 120 3 1 24
CALORIES CARBS FAT PROTEIN
Totals: 1,609 159 62 114
Deficiet = 224
MISSION = BIKINI